Samsung Galaxy S7 Pink Gold color choice introduced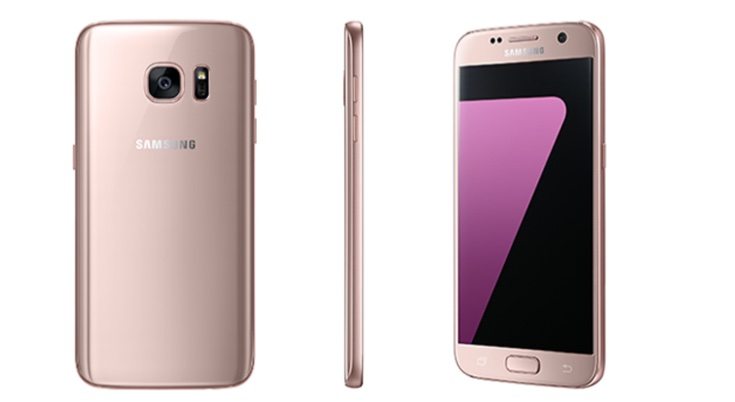 The Samsung Galaxy S7 and Galaxy S7 Edge released to a waiting world last month. Originally it was offered in several different color choices, but now a new Samsung Galaxy S7 Pink Gold color choice has been introduced. That brings the total selection of different hues to five.
For those who don't know, the Galaxy S7 and S7 Edge were already available in Black Onyx, Gold Platinum, Silver Titanium, and White Pearl colors. Now Samsung has officially announced the arrival of the Samsung Galaxy S7 Pink Gold version. It will be on sale in South Korea from today. The company says it will also be made available for the S7 and S7 Edge in other select markets although doesn't specify exactly when.
As you might expect, Samsung has come up with plenty of hyperbole in the press release, describing the "glitter and shimmer as if illuminated from inside their glass surfaces" for the current colors of the phones. By way of introducing the new color option the company describes the Pink Gold color as "intended to soothe and incorporate a touch of gentleness, radiance and sophistication to the smartphones' design."
Samsung hasn't stated that the specs of the new Pink Gold Galaxy S7 are any different from the other colors. Therefore you can assume they remain the same with top-flight specifications and features. It will be interesting to hear further news on exactly which other markets the phones will be offered in the Pink Gold option. We'll bring more on that when we hear it.
In the meantime you can check out more on the specs and features of the Samsung Galaxy S7 and S7 Edge in our launch story. Some readers may also be interested in a recent initial look at the Samsung Galaxy S7 vs HTC 10 that focuses on the advantages of each. Are you hoping that the Samsung Galaxy S7 Pink Gold choice reaches your region?
Source: Samsung