HTC 10 vs HTC One M9, M8, M7 bootup speed test shocker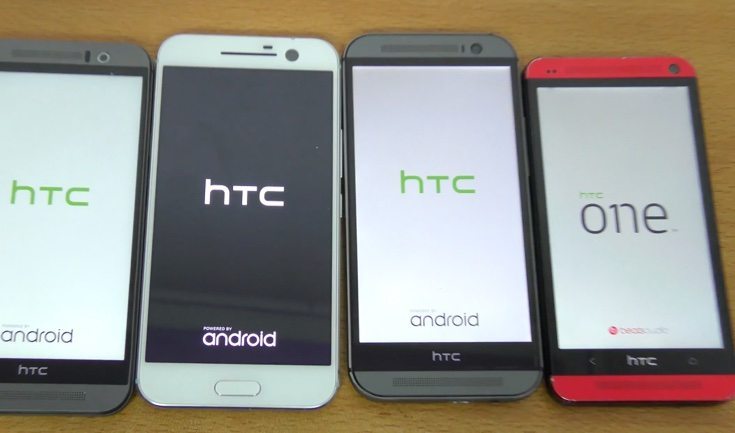 HTC recently launched its newest flagship smartphone, and the HTC 10 will be making its way into the hands of many eager buyers. It can be interesting to compare particular aspects of a new handset to older ones in the line, especially where speeds are concerned. Bearing that in mind we're looking at the HTC 10 vs HTC One M9, M8, and M7 in a bootup speed test shocker and more.
We'll check out some of the key specs as far as performance is concerned before we begin. The new HTC 10 packs a Snapdragon 820 and it has 4GB of RAM. The HTC One M9 was Samsung's flagship for 2015 and has a Snapdragon 810 processor and 3GB of RAM. Meanwhile the HTC One M8 from 2014 is equipped with a Snapdragon 801 processor with 2GB of RAM. Finally the M7 (the original HTC One) arrived back in 2013 and is powered by a Snapdragon 600 processor with 2GB of RAM.
If you scroll down the page you'll come to a video that shows the HTC 10 vs HTC One M9, M8, and M7. After making some initial observations the phones are put through a bootup speed test to see which is up and running first. The handsets are simultaneously powered up and then placed alongside each other. We're not going to ruin the suspense for when you watch the video, but we will say that there's a clear winner and the result is likely to surprise many people.
After the bootup testing you'll then see a Geekbench 3 benchmark test being conducted on all four phones. You'll see the single-core and multi-core results and there's a major improvement in the scores of the HTC 10 over its predecessor, let alone the older models. When you've checked out the video below we'd like to hear from you. Are you surprised at the results of the HTC 10 vs HTC One M9, M8, and M7 bootup test?
Source: Xetechcare (YouTube)
https://www.youtube.com/watch?v=IhY-jFL3n7Y://