Samsung Galaxy S7 Active specs exposed in benchmark spot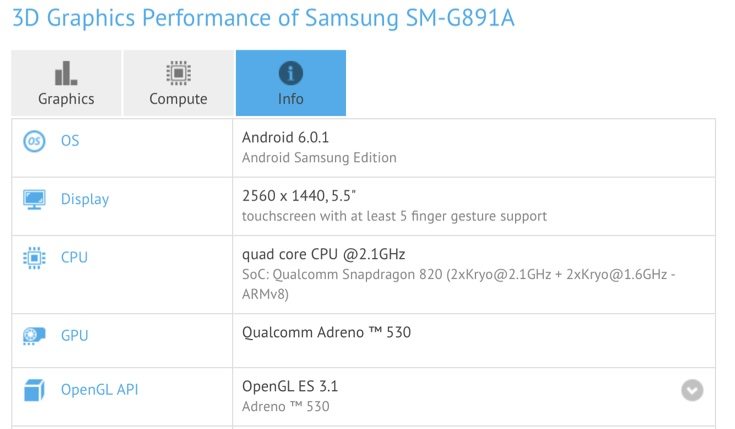 Samsung device fans will know that when the company introduces a new Galaxy S flagship it's usually followed by a more rugged version of the smartphone. Last week we saw our first signs of a Galaxy S7 Active in some leaked images. Now we have news of some Samsung Galaxy S7 Active specs exposed by a benchmark spot.
Handsets in the Galaxy S Active line usually reflect the latest flagship but offer more durability as far as the design is concerned. These rugged smartphones are likely to appeal to those who work in tough conditions, or who live particularly active and adventurous lifestyles, and that's also likely to be the case with the S7 Active. You can check out the previously leaked images claimed to be of the Samsung Galaxy S7 Active in our previous article on the phone.
Specifications were not known at that point although a Snapdragon 820 processor and 4GB of RAM seemed likely. Now a device dubbed the Samsung SM-G891A (aka Galaxy S7 Active) has shown up in a GFXBench filing. This has revealed some of the key specs of the rugged smartphone, and just as we thought it packs a 2.1GHz Snapdragon 820 quad-core processor and 4GB of RAM. The listing also shows that the Samsung Galaxy S7 Active has the same 12-megapixel/5-megapixel camera set-up of the flagship Galaxy S7, and it's running the Android 6.0.1 Marshmallow OS.
The display size is a key difference though, as instead of the 5.1-inch screen in the S7, the S7 Active moves up to a larger 5.5-inch display. However, it still has the same impressive Quad HD resolution of 2560 x 1440. The battery size does not appear in the benchmark filing but is likely to be a higher capacity than for the regular S7, especially considering the larger size of the handset.
The Galaxy S7 is dust and water-resistant to IP68 certification standard, but the S7 Active is likely to include at least this level of protection. We also anticipate at least military grade MIL-STD-810G standard as featured on the Galaxy S6 Active. This offers protection against, drops, salt, humidity, shock, solar radiation, vibration and more.
There's no news yet on when this new Samsung rugged smartphone might release, but we expect to hear something official within the next few weeks. Are you keen to hear further news about the Samsung Galaxy S7 Active specs and features?
Source: GFXBench
Via: Phone Arena