HTC 10 vs LG G5, iPhone 6S, Samsung Galaxy S7 bootup speed test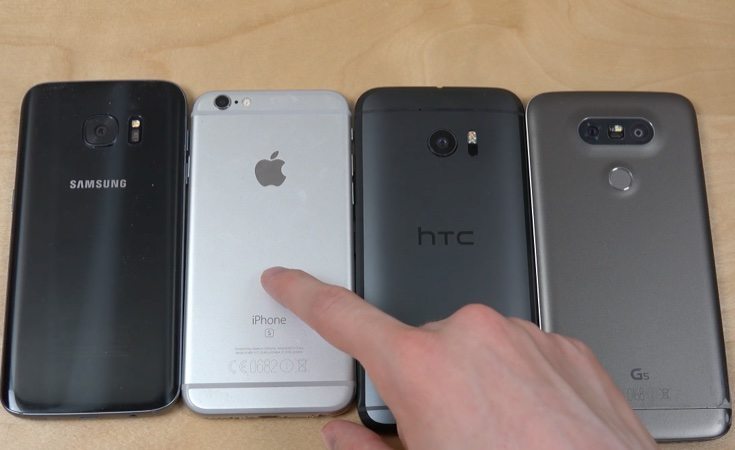 It can often be interesting to see how various flagship smartphones compete against each other in specific aspects. The HTC 10 is a very recent release and the Samsung Galaxy S7 and LG G5 also arrived in the last few months. Meanwhile Apple's iPhone 6S hit the shelves in September last year. We thought readers might be interested in an HTC 10 vs LG G5, iPhone 6S, and Samsung Galaxy S7 bootup speed test to see which is ready for action first.
The HTC 10 has only just arrived so many readers will just be getting to grips with this device. These HTC, Samsung, and LG devices all released running Android Marshmallow. They are all powered by a Snapdragon 820 quad-core processor and have 4GB of RAM. The Galaxy S7 also has a variant using the Exynos 8890 octa-core processor. The iPhone 6 is of course the only one running iOS and released on iOS 9, now upgradable to iOS 9.3. It's equipped with an Apple A9 dual-core processor and has 2GB of RAM.
The age-old Android vs iOS debate doesn't seems likely to end any time soon, so comparing different devices is always worth a look. Below this article we've embedded a video showing an HTC 10 vs LG G5, iPhone 6S, and Samsung Galaxy S7 bootup speed test. Bear in mind this is not a full comparison of the devices but focuses on this particular speed aspect.
The video shows all four phones alongside each other and you'll see them simultaneously powered up to see which is up-and-running first. Before you check out the comparison why not try to predict which will be quickest and which will be slowest. It's a tense wait but there's a clear winner, and you might be surprised (or not) by the winning and losing phones as far as bootup times are concerned.
As well as the bootup speeds the reviewer also demonstrates a few further aspects of these smartphones. For instance the video will give you an opportunity to take a look at the different UI experiences, power menu screens, multitasking and more. We're really interested to hear your thoughts on the results of this bootup speed test on the HTC 10 vs LG G5, iPhone 6S, and Samsung Galaxy S7, so send your comments to let us know. Were you surprised at the outcome?
Source: Adrianisen (YouTube)
https://www.youtube.com/watch?v=vDYCv9dZe-g://