MediaTek Pump Express 3.0 Battery Charger, From 0% to 70% in 20 Minutes!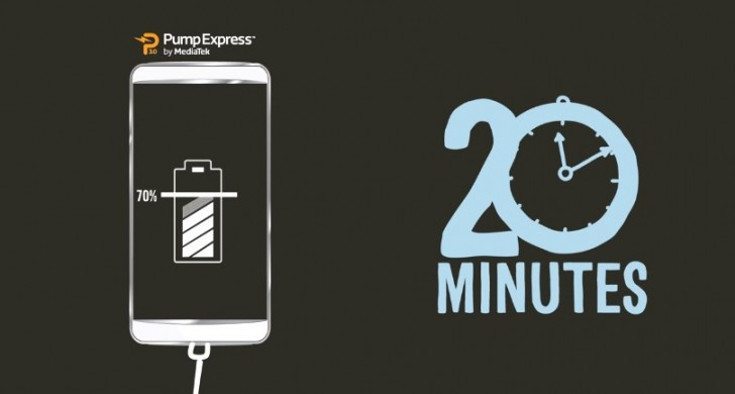 Say hello to MediaTek Pump Express 3.0, the lightning-fast battery charger, a phenomenal device that will keep your smartphone alive and well, regardless of your obsessive-compulsive disorder, I mean your Facebook addiction. Battery drainage is a common problem these days, especially for tech fiends and geeks obsessed with their news updates and notifications. If you're reading this, you probably know what I'm talking about. But the sad days when you're looking desperately for a wall socket are far gone, courtesy of the MediaTek Pump Express 3.0.
I know, this is not the first portable battery charger ever made, but arguably, this is the best of the bunch, and it was showcased recently at Computex 2016. What makes it very special is its new uber-fast charging technology, which if works as advertised, will replenish your battery from 0% to 70% in just two shakes of a lamb's tale, provided that one shake takes 10 minutes. For just 5 minutes of charging you'll get one hour of talk time, so this baby is as good as it gets, in theory at least. Together with lightning fast charging times, the MediaTek Pump Express 3.0 is incredibly efficient, and in the world of physics, efficiency translates into lower temps for your smartphone while charging. And here's another touch of genius from MediaTek's R&D department, i.e. the MediaTek Pump Express 3.0 bypasses the phone's charging circuit and delivers the juice directly into the battery, thus maximizing efficiency.
And if you think that's dangerous, I mean bypassing the smartphone's charging circuit, rest assured, because the MediaTek Pump Express 3.0 is protected against overheating and comes with over 20 safety systems. Long story short, it's ok, your phone will not explode, you'll be fine (if it sounds like something from "top ten final words", I am aware of that). The new fast-charging technology that was showcased in the Pump Express 3.0 will be available on MediaTek's Helio P20 platform later this year. Until then, fingers crossed and check out this promotional video to get an idea about what's what.