Samsung Galaxy Note 7 Launch Date Revealed by Unpacked Invite?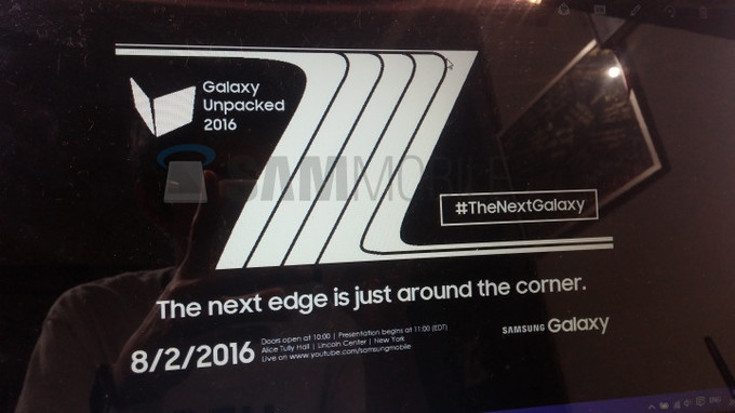 Today's breaking news is that we have an almost certain date for the official release of the upcoming Samsung Galaxy Note 7. The high end phablet marches into the steps of the Galaxy S7/S7 Edge flagships, which were showcased earlier this year, at the MWC (Mobile World Congress). As the rumor mill has it, the Koreans will throw away the Note 6 moniker and they'll goo full throttle for Note 7, to match with the other devices, the seven series sort to speak. Now, getting back to business, let's take a closer look at a leaked invite graphic, shared by the good people at SamMobile.
As you can see for yourself, the writing on the wall is that August 2nd is the day of Gojira, or to be more precise, the day Samsung Galaxy Note 7 will see the light of day. Today's leak corroborates with a previous one, announcing the release iof the  aforementioned phablet in early August, hence ladies and gents, we have a winner. The date is set in stone basically, so you have until August 2 to hoard cash for the upcoming Samsung Galaxy Note 7.
In other news, according to various business insiders, we may very well be confronted with two flavors of the Galaxy Note 7, the "regular" and another one featuring a curve edge display. This theory or rumor, depending on what you're going to call it, makes sense if you take into account the huge popularity of Samsung's edge smartphones; even if the functionality of such devices is debatable, the design is pretty awesome and awesome is a more than enough reason to buy a droid in my book.
The next Samsung Galaxy Note 7 is rumored to pack a giant 5.8 inches wide Super AMOLED screen with QHD resolution (1440 x 2560 pixels) and it will be powered by the latest Snapdragon 823 system on chip, together with a high end Adreno 530 GPU and 6 GB of RAM. Stay tuned for more news.
Source: SamMobile