Hot-Deal : $300 discount on Any Verizon Smartphone Above $400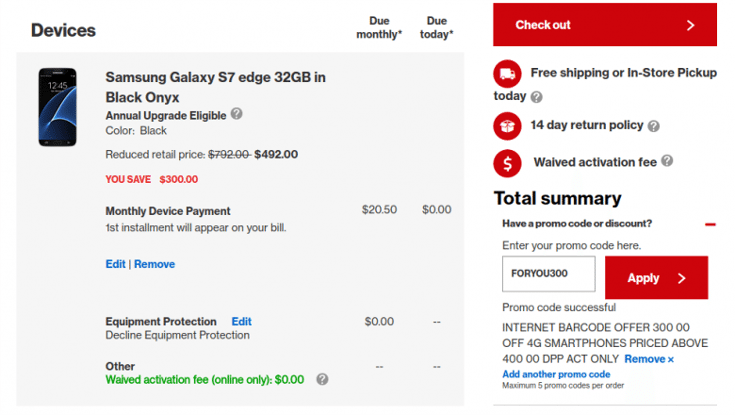 If you're seeking for a brand new smartphone, hold your horses and check this out: today we have an awesome deal for you, dear reader, courtesy of Verizon: you'll get a $300 discount for any Verizon phone above $400. Talking about sweet deals, it doesn't get any sweeter than this folks. The US carrier just released their new promo code, "FORYOU300" respectively, that works for any device above $400. All you have to do is to go out there, find the smartphone of your dreams, enter the code "FORYOU300" when you checkout and voila, there goes your discount. However, there's a catch to that, as the promotion seems to be working just for new payment plans.
Basically, if you want to upgrade your current smartphone, tough luck, it doesn't work like that. To benefit from the $300 discount at its full extent, you'll have to sign for a new smartphone/payment plan with Verizon, rather than buy a new smartphone contract free. Either way, this deal is as good as it gets. I mean, one of the fourteen smartphones eligible for the discount (Verizon's online store is available here) is the iPhone 6, the base model. If you want to go buy it upfront, contract free, you'll have to cough up $550, but if you're applying the $300 discount, you'll end up with a brand new Apple jewel for which you'll have to pay $10 per month for the next two years.
Or, you can put your greedy little hands on the brand new Samsung Galaxy S7 Edge for just $492 instead of going full price ($792), ending up paying $20/month for the next 2 years. It doesn't get any better than this folks, believe me. After applying the $300 discount, the HTC 10 will cost you $348 while the LG G5 will be yours for only $324 with a 24 months contract. That pretty much sums it up, happy hunting folks!
Source: PhoneDog