Xiaomi Redmi 4 to Sport a Helio X20 SoC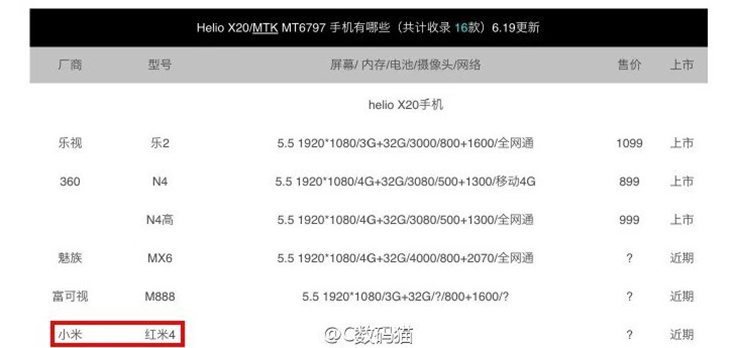 Xiaomi's Redmi series is their most acclaimed range of budget smartphone that provide premium specifications. But you might be confused with the title of this post. The Helio X20 SoC and the Redmi series don't go hand in hand. The Helio X20 SoC is not a budget chipset and is found on higher end devices, unlike the Redmi phones. But, Xiaomi is known to break the conventions and they might do it again with the Redmi 4. The Xiaomi Redmi 4 is rumored to sport the MediaTek Helio X20 SoC, according to a leaked list showing the devices that use the X20.
If the rumors are to be believed, the Xiaomi Redmi 4 will be one hell of a budget smartphone. The Redmi 3 had the Snapdragon 616 SoC under the hood with 2GB of RAM and 16GB of internal storage. It also came in two other variants, the Redmi 3 Pro and the Redmi 3S, which came in with an extra gig of RAM as well as a fingerprint scanner.
Xiaomi Redmi 4 may not be unveiled until later this year or maybe the beginning of next year. But we all know that Xiaomi phones have a habit of leaking their info a lot before their release. Even their CEO, Lei Jun, occasionally leaks information about their upcoming phones. He recently shared a picture of him using the Mi Band 2 before its official release date.
None of the other details of the phone has been revealed or leaked yet. But, looking at the previous phones from the Redmi series, the Redmi 4 may very well be made of metal and might come with a 4.7-inch or 5-inch Full HD display. There will also be a fingerprint scanner without a doubt. A lot more about this phone will come out in the near future. Stay tuned for all the updates!
via – GSMArena