Lenovo K5 Note Hits the Shelves in India on July 20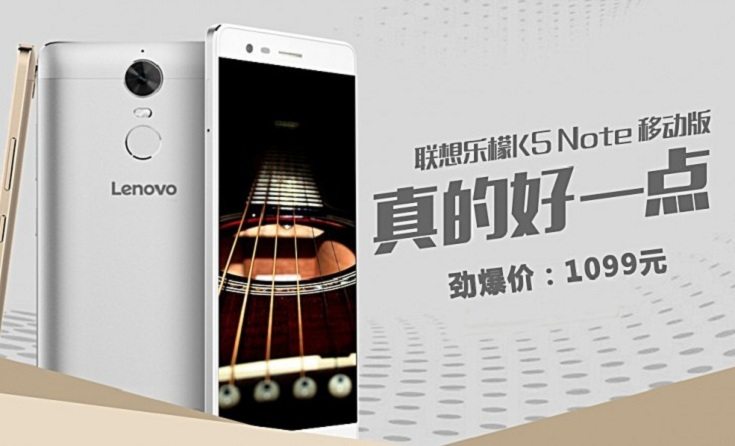 The new Lenovo K5 Note will hit the shelves in India in three days from now, on July 20, being the proud successor of the K4 Note, a hugely popular device in its time. The K4 Note was a big hit in India both in terms of pre sales and afterwards, when it became official five months ago. Based on K4's success story, Lenovo decided to push forward the new generation as soon as possible, hence the fan-base will be delighted to put their greedy little hands on the brand new Lenovo K5 Note starting from next Wednesday.
The K5 Note is a strong upgrade of the previous gen as it has many promises to keep. Just to get an idea, the Lenovo K5 Note boasts a 5.5 inches wide screen of full HD/1080p resolution, a LTPS variety, together with a 13 megapixels main snapper and an 8 megapixels secondary camera for video calling and selfies. The battery is a beefy 3500 mAh power-plant which manages to keep the lights on beaucop time, a nice touch from Lenovo in this writer's opinion, especially for a moderately priced droid. As per high-end features, the Lenovo K5 Note boasts a cool full-metal-jacket chassis and it measures 152 x 75.7 x 8.49 millimeters.
Among other goodies, you'll be delighted to find out that the K5 Note offers dual SIM support, 4G LTE/VoLTE connectivity and it even has a fingerprint scanner on the back panel. In the hardware department, the Lenovo K5 Note relies on a powerful MediaTek Helio P10 system on chip, together with a generous 3 gigabytes of RAM and 16 gigabytes of internal memory, which is expandable via micro SD cards. On top of that, the smartphone comes with a high quality 1.5 W speaker on the back panel  featuring Dolby Atmos surround sound. Last but not least, the expected price tag for the K5 Note in India is approximately $167, i.e. that's the price for which the smartphone is on sale currently in China currently.