Xiaomi Redmi Note 4 specs leak confirms Helio X20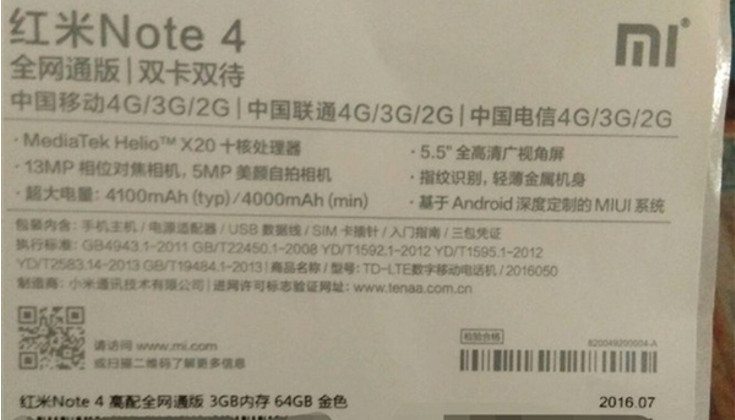 Xiaomi's Note lineup has been a fan favorite for numerous reasons. The price and specifications play a large part in its popularity, and a fresh leak shows the Xiaomi Redmi Note 4 specs are not likely to disappoint.
The Xiaomi Redmi Note 4 has been leaking with increasing frequency over the past couple of months. We do not expect that to change until the Xiaomi Redmi Note 4 release date finally rolls around – which may be closer than we think. A new image has appeared showing a retail box for the upcoming device, so it is time to take a look at the Xiaomi Redmi Note 4 specs.
According to the box shot, the Xiaomi Redmi Note 4 specs will include the Helio X20 processor and 3GB of RAM so you will have plenty of pop with the phablet. As expected, it also has a 5.5-inch display with a resolution of 1,920 x 1,080 and 3GB of RAM. The storage is more than sufficient for most at 64GB and the same can be said of the cameras with a 13MP sensor on the backside and a 5MP camera on the front. The rest of the specs include Android 6.0, Dual SIM, 4G LTE, a fingerprint scanner, and a large 4,100mAh battery.
While the rumors of a Dual Camera on the Xiaomi Redmi Note 4 may not pan out on this model, they could be reserved for a Pro variant, which is tipped to have the Helio X25 and 4GB of RAM. As for this handset, the release date is still up in the air although we know it will land in Gold thanks to the box leak.
via – Gizmochina