Exynos 8895 to come with 4GHz Peak Clock Speed, To be cheaper than Snapdragon 830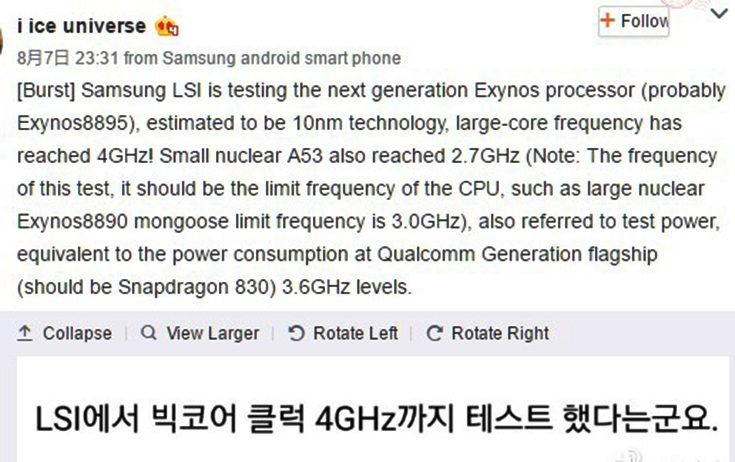 We reported two weeks about the Samsung Exynos 8895 using a new 10nm process on their latest chipset. Their brand new flagship, the Galaxy Note7 was rumored to have the chipset under the hood, but later it was confirmed that it would have the Exynos 8890 itself. Using the new 10nm process will allow Samsung to greatly reduce the power consumption of the chipset as well as increase the overall performance. But questions relating to how much of an increase in performance is expected have been raised. This post would definitely answer all those queries.
A post on Weibo suggests that the Exynos 8895 will achieve clock speeds of up to 4GHz for the Cortex-A57 cores and up to 2.7GHz for the Cortex-A53 cores. Compared to the Exynos 8890, which receives peak clock speed of 3GHz, this is a whopping 30% increase.
However, it should be noted that the phone would not be sold with these clock speeds, but it just shows the capabilities of the chipset. It is said that the Exynos 8895 can achieve the 4GHz clock speed at the same power as the Snapdragon 830 achieves its top clock speed of 3.6GHz.
To top off everything, the Exynos 8895 may also be cheaper than the Snapdragon 830. If everything turns out to be true, 2017 will have a lot of flagships based on Samsung's chipset. It is already rumored that Samsung will introduce the Exynos 8895 along with the Samsung Galaxy S8.
These are just rumors for now, but the announcement for these chipsets should come out soon. We already have official confirmation about the Helio X30. The Snapdragon 830 and the Exynos 8895 are next in line. Huawei also might have something in store for us. What will it be called? Kirin 1000? Let's wait and see.
via – Phonearena
Source