Huawei Mate 9 Leaked Poster Reveals Kirin 960 and 20MP Dual Cameras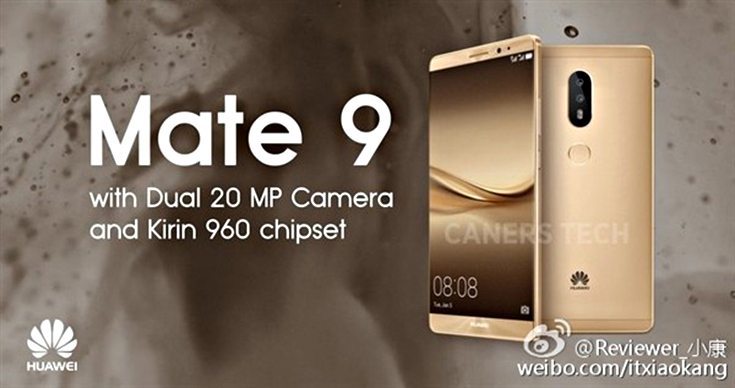 It has been almost a year since the release of the Mate 8. Huawei has shown been growing steadily and their reputation as a smartphone supergiant is increasing. They're making sure that their devices don't go unnoticed, whether it be their flagships or their Honor range of smartphones. Honor 8 sold 1.5 million units since its launch which is a huge milestone for the company. Now we have a leaked poster of the much talked about Huawei Mate 9 and it is going to be a beast of a smartphone.
The poster is said to be fake and it shows the Mate 8 instead of the Mate 9. There is a rear mounted fingerprint scanner just below the camera. Unlike the P9, the cameras are place one above the other, with the flash at the bottom.
The leaked poster looks simple and reveals only two details about the phone apart from showing the alleged phone. There were rumors that the Huawei Mate 9 would be the first phone to feature the Kirin 960 SoC and the leaked poster shows it too.
The other big reveal is that the Huawei Mate 9 sports dual-20MP cameras at the rear. We have no information on whether the cameras will be made in association with Leica. But considering the fact that the P9 was highly praised for its camera, we might see a similar setup here too.
We can expect the same 6-inch screen, but with a QHD resolution on the Huawei Mate 9. There will be 4GB or 6GB of RAM along with 64GB and 128GB of storage options. These are just assumptions right now, but considering the fact that Huawei is looking into VR seriously, the screen might just flaunt a QHD resolution. The device is expected to be unveiled in December. What are your thoughts on the Huawei Mate 9? What do you think the specifications will be like?
via – Phonearena
Source