OnePlus Pixel benchmarks show a mysterious smartphone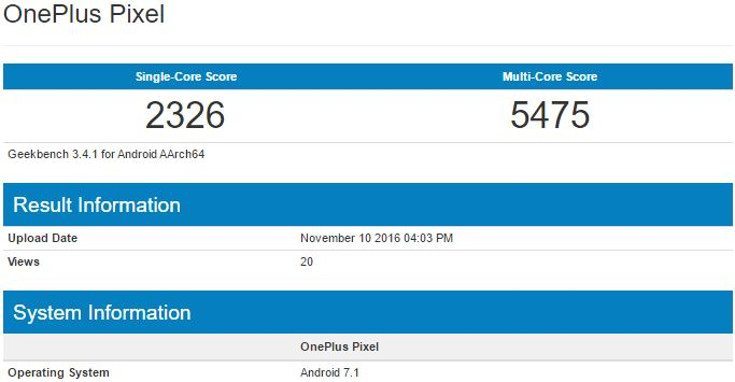 We know we will see the OnePlus 4 next year, and the OnePlus 3T is set to debut soon as well. As for the OnePlus Pixel, we don't know what it is or when it will arrive but it has just shown up on Geekbench.
Everyone loves a good mystery and there are not too many in the smartphone world. We tend to see products leak weeks and months ahead of an official announcement, which is why the OnePlus Pixel is all the more mysterious. Nobody has heard anything about the handset, but it is high-powered and scored well during its test run.
According to Geekbench, the OnePlus Pixel specifications will put it in the flagship class. It is shown to have a Snapdragon 820 and 6GB of RAM, which is flagship worthy but strange at the same time. The OnePlus 3T will have the Snapdragon 821 and we assume a comparable amount of RAM as well. Unless the OnePlus Pixel has another feature (QHD panel) we're not seeing, we aren't really sure what will set it apart.
The OnePlus Pixel listing could be an error or simply a variation of one of the company's current handsets. The display wasn't listed, and while it's a stretch, maybe it will be a handset capable of running Daydream due to the Pixel moniker. More details on this one could become clear next week after the OnePlus 3T finally becomes official.
via – Phonearena     source: Geekbench