Galaxy S7 official 7.0 Nougat vs Pixel XL 7.1.1 speed comparison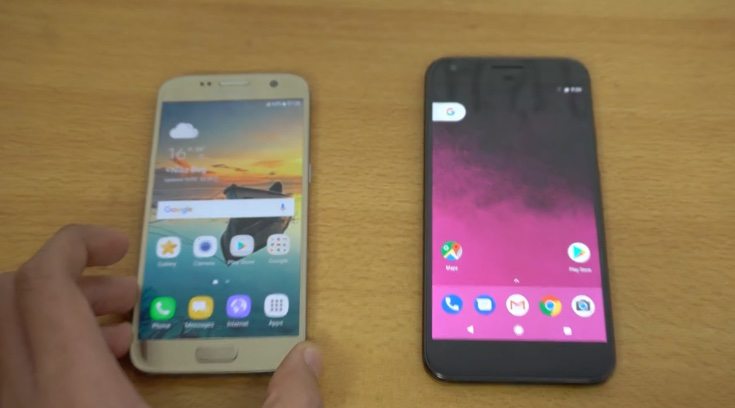 Android Nougat OS updates are rolling out to various devices with some on a later version than others. The Samsung Galaxy S7 and Google Pixel XL are two of the best Android smartphones that released last year and it's interesting to see how top devices compare as far as speeds are concerned. Therefore we're taking a look at a Galaxy S7 official 7.0 Nougat vs Pixel XL 7.1.1 Nougat speed comparison.
The Samsung Galaxy S7 packs an Exynos 8890 octa-core processor while the Google Pixel XL is powered by a Snapdragon 821 chipset. Both have 4GB of RAM. The Galaxy S7 released running Android 6.0 Marshmallow and the official Android 7.0 Nougat update is now rolling out to the device. It's worth noting that updates may take some time to reach all markets, with carrier models often among the last to receive them. By comparison the Google Pixel XL released on Android 7.1 Nougat out of the box.
The video below shows some speed testing of the Galaxy S7 and Pixel XL, with the former now on the official 7.0 Nougat update and the latter now on Android 7.1.1 Nougat. The test begins with a boot-up test showing both handsets alongside each other and simultaneously powered up. The reviewer notes that neither device is rooted and are both using the same Wi-Fi network. The Samsung phone is a clear winner in the bootup testing as it's ready for action several seconds ahead of the Pixel XL.
A series of further tests is then shown such as the Phone, Calculator, and Settings apps being opened. The differences in speeds are much less apparent here as you might expect, but we won't give the game away as you can see the speed difference for yourselves. Some games including Subway Surfers and Smash Hit are then loaded to see which is quickest, followed by further testing. Browser testing is then conducted with both phones using Google Chrome, and there are some multitasking and RAM management observations.
At the end of the video the reviewer declares his overall winner. You can find that out in the Galaxy S7 official 7.0 Nougat vs Pixel XL 7.1.1 speed test video below. What are your thoughts about the speed results with these top Android smartphones?
Source: Xeetechcare (YouTube)