O2 iPhone 3.0 tethering prices: expensive bolt-on data packages
iPhone 3.0 tethering is available right now but at a cost from O2, if you did not know about the charges let us explain.
Tethering is available but it includes expensive bolt-on data packages, the all new iPhone OS 3.0 has taken the world by storm and still many of you are trying to download it, some of you are having trouble sending MMS messages (We explain about MMS here).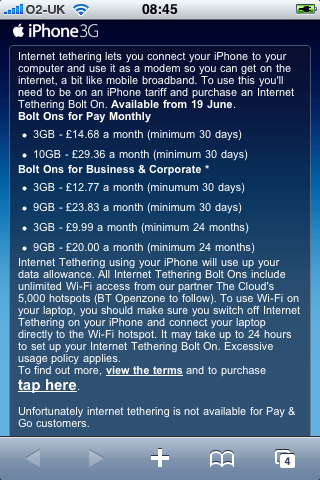 Tethering is not yet available with US iPhone carrier AT&T and will not be available for quite a while, however O2 has made it available but with charges. O2 will not be including internet tethering as part of the iPhone's 'unlimited' data package but when setting up the function all iPhone users will be told to sign up to expensive bolt-on data packages.
Package Prices: For £14.68 you will get 3GB a month, £29.36 will give you 10GB, oh and you must be warned that there is a massive 'excessive usage' policy attached.
Source — Pocket Gamer