More HTC Incredible Pictures Revealed
More images of the Android packing HTC Incredible have been uncovered, still sporting the same Verizon colours, and from the images the guys over at engadget have managed to drag out a few possible specs.
They say there appears to be a ½ gig of RAM with roughly 320MB available, along with an 8 megapixel camera, however they do say that apparently the Snapdragon is underclocked at 768MHZ probably as a battery saver by HTC.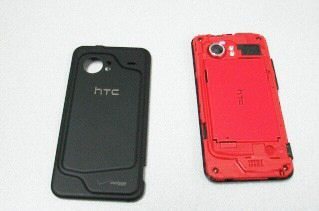 Size wise the HTC Incredible measure 117.5 x 58.5 x 11.9mm which makes it slightly thinned than the Google Nexus One smartphone, and word has it the Android 2.1 OS and HTC Sense are still really fast.
Also of note is that HTC has moved away from the bright gloss shell on the HTC Incredible and has opted for a soft touch black casing but retains all the contours, so that believe this may be the final ID as the Verizon logo is at the base in a very loud shade of red and even the inside is completely red, probably to emphasise its definitely a Verizon smartphone.