HTC Desire HD Release Date Delay by Amazon UK: Why?
Amazon UK has just put up on its website that the HTC Desire HD will now release October 25, "This item is due to be released on October 25, 2010".
We do not know why Amazon UK is delaying the HTC Desire HD smartphone but they have their reasons, maybe they are having problems getting stock and know that they will not meet demands, please let us know if you are a little disappointed with the release delay.
Below is the Screenshot courtesy of EuroDroid, let me give you a quick recap on the main specifications: 4.3-inch touch screen, Wi-Fi, Free voice guided SatNav with Google Maps, Android phone with HTC Sense and 1GHz processing power, Bluetooth, 8-megapixel colour camera with auto focus and 2x LED flashlight and 720p HD video capture and GPS.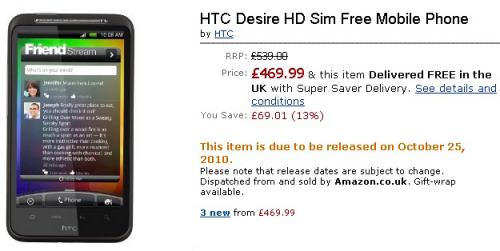 However, even though there is a delay you can still pre-order your HTC Desire HD for £495.99, for more information please visit Amazon UK. This smartphone will also release on Vodafone October 14.