iPhone 5 now official but no groundbreaking look
Today many tech enthusiasts across the world have been waiting for the Apple event and the reveal of the iPhone 5 and at last the event is underway. The iPhone 5 is now official and one of the first announcements was that it would indeed be called the iPhone 5 as many alternative names had been rumored. The one drawback we can see so far as that the design is not exactly groundbreaking when we had been hoping for a design offering something completely new.
We've been bringing you developments on the iPhone 5 for many months and it's great to finally be able to bring our readers confirmation. Although we don't yet know all the details as the keynote is still ongoing we do have initial information to bring you and it seems that many of the factors that were widely rumored have come to fruition. So far we know that there is a larger 4-inch display with resolution of 1136 x 640, which works out at 326ppi. It also boasts improved color saturation. The screen is longer than previous iPhone models and now allows 5 rows of icons.
As far as the widely expected A6 processor goes, that has also arrived and Apple is billing it as being two times faster than the processor in its predecessor, the iPhone 4S. As Engadget points out, there will be plenty of people ready to test that out as soon and no doubt we'll soon see if that is accurate.
Another piece of big news is the addition of 4G LTE connectivity and this is a big one, especially as we told how Samsung had threatened to counterattack against its recent U.S. patent litigation defeat by Apple with legal action if the iPhone 5 turned up with LTE. Putting all that to one side though Apple has gone full steam ahead with its LTE iPhone 5 and there's also HSPA+, EV-DO, EDGE and more. So far we know that the LTE iPhone will be compatible in the U.S. on AT&T, Verizon and Sprint and we expect to be hearing more on this as the event develops further.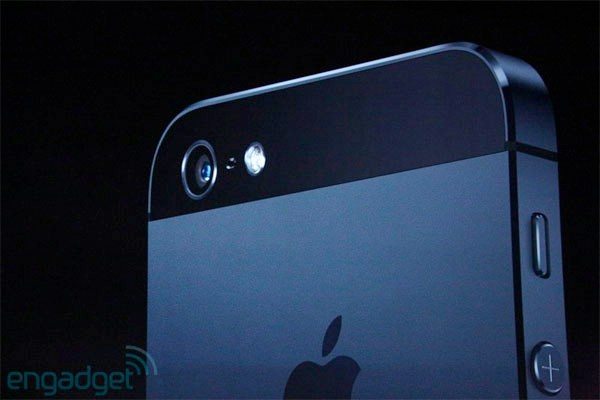 So far so good as far as specs and features go then and we'll be bringing you more on this as we hear it. However how about the brand-new design that many were anticipating. The iPhone 5 is made from glass and aluminum and there are some pleasing aspects such as the fact that it weighs only 112 grams, that's a full 20% lighter. It's also only 7.6mm thick and compared to the iPhone 4S that's 18% thinner. However, although the design is fine it's not as groundbreaking as we'd been hoping for. Many will probably disagree on this though as it's a very personal preference
So there you have it, some first details on the iPhone 5, which is now official. We'll be bringing you much more on the new iPhone so do check back with us for further news. What are your initial thoughts on the iPhone 5? Are you impressed with what you've heard so far? Maybe you would have liked to see a more innovative design? Let us know with your comments.