iPhone 5 demand surprises even Apple
Let's face it, we all knew that demand for the iPhone 5 would be enormous, almost no matter what Apple finally unveiled at its event on Wednesday. The new iPhone had long been the subject of murmurings regarding how it would have one of the highest demands ever and we're not surprised to hear that is indeed the case, with online pre-order supplies selling out within hours and shipping dates already pushed back. It seems that demand for the iPhone 5 is so high that it has surprised even Apple.
Pre-orders for the iPhone 5 began in the early hours of Friday and yesterday we gave you the relevant pre-order information and pricing whilst earlier today we gave readers details on UK contract pricing. The iPhone 5 has been very well received, although some were hoping for something a little more groundbreaking, and we noted yesterday that only a few hours after pre-orders opened, in both the US and UK Apple online stores shipments were already listed as two weeks, when in fact at that time it was exactly one week from the release date of September 21.
We've just checked again today and now pre-orders are listed on the US Apple site for all storage models and both color options, with shipping times of 2-3 weeks. This is repeated on the UK Apple site with all models and colors listed with a 2-3 week shipping time. Therefore if you weren't one of the very first to get a pre-order in, then currently it could be two weeks after the release date until you actually get your hands on your iPhone 5. If you still want to pre-order then we'll remind you that orders are limited to 2 per customer. Of course the alternative way that you still have a chance to get one on release date is to get to an Apple retail store or authorized partner, where sales will begin at 8am local times on Friday 21st.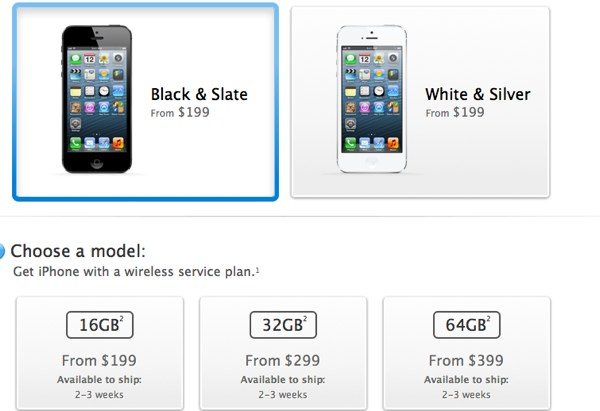 An NY Times report tells how Apple actually sold out of its pre-order supplies for the iPhone 5 only one hour after pre-orders went live. That's pretty phenomenal and seems to have surprised Apple itself with spokeswoman Natalie Kerris saying, "Pre-orders for iPhone 5 have been incredible. We've been completely blown away by the response." In the US customers were able to order the iPhone 5 through AT&T, Verizon and Sprint and although pre-orders at the carriers held out a little longer they also ended up with delays. By last night they were all giving shipping times of between 2 and 3 weeks, the exception being the 32 and 64GB models with Sprint that were still listed for availability on September 21. However that's probably also changed by today.
According to the LA Times the pre-order online demand was so high that at some points Apple's website shut down and although Apple hasn't yet revealed how many units have already been sold a Jefferies & Co analyst, Peter Misek, said "I've never encountered anything that sold out this fast. It's a mania." By comparison it took a whole 22 hours until pre-orders of the iPhone 4S sold out last year.
A few weeks ago we told how one analyst said that the iPhone 5 would be the biggest consumers electronics product upgrade in history and while the iPhone 5 specs are impressive we can't agree that it's the biggest upgrade ever. Nevertheless there are a lot of people who chose to skip the iPhone 4S and enough other people who are suitably impressed that demand for the iPhone 5 has been truly overwhelming. If you want to try your luck on release day at an Apple store, if pre-order demand is anything to go by you may want to be standing in line very early indeed, if not for days!
We're interested to hear from our readers regarding the huge desire for the iPhone 5. Are you surprised that even Apple seemed unprepared and astonished about the huge demand? Did you pre-order and if so were you one of the lucky ones that should still receive the iPhone 5 on launch day? Send your comments to let us know.