iPhone 5 build problems mount with light leakage
The launch of the Apple iPhone 5 only took place on Friday and after the initial excitement it seems that there are growing problems for Apple. Millions of the new iPhone have already been sold and although plenty of people are more than happy with their purchase it would be fair to say that there have been some issues. Now the iPhone 5 build problems seem to be mounting as some owners are reporting an issue with light leakage with the white iPhone 5.
If you're wondering why we say build problems seem to be mounting, that's because earlier today we told of an increasingly widespread problem mainly affecting the black iPhone 5, sometimes being referred to as 'Scuffgate' or 'Scratchgate.' We told how many new iPhone owners are taking to forums to say their phones were damaged when they took them out of the box or that they became scratched or scuffed after only very light use. The fact that some marks were underneath the protective film indicated either carelessness at the factory or a faulty production process. Apple had issued no comment on this at the time although one owner said that a customer support rep said that it was a widespread issue. Now it seems that Apple has another build issue on its hands with the light leak problem.
As with the scuffing & scratching issue there are some iPhone 5 owners taking to forums to talk about the latest problem whereupon some of the white models of the latest iPhone seem to have light leakage. This is occurring between the display glass and the aluminum antenna, according to a BGR report and the area to look at is around the power button where there may be a small crack. The issue is being discussed on the MacRumors forums so BGR took a close look at one of its own iPhone 5s and did indeed see a loosening chamfer and light leakage near to the power button.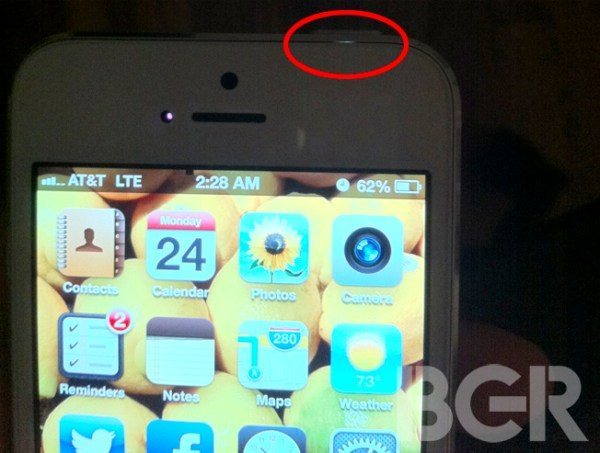 The model BGR found the issue on was a white and silver 64GB unit on AT&T but the site does point out that users would never notice the problem unless using the iPhone 5 in low light or darkness. BGR has a couple of photos showing the light leakage and we've posted one above. As you can see there is definite light leakage although it doesn't really look like a major fault. However of course these are not cheap items and people do have a right to expect they will be without flaws. Other MacRumor forum members have come forward saying they had this same problem and have had the faulty units replaced although one user told how the replacement was affected in the same way.

Cnet also discusses this latest iPhone 5 problem and notes that comments are also being made about it on the Apple support forums here. Cnet reminds us that this light leakage has been evident before on the iPad 2 and also on the iPhone 4 when using the camera. In those cases though there was also evidence of a yellowish tint, thought to be due to the glue used in assembly, although we haven't heard this mentioned in this latest example of light leakage.
This problem has only just come to light (excuse the pun) so it's difficult to get an idea of just how many iPhone 5 units are affected with the light leakage flaw. Cnet has reached out to Apple for comment about this issue and if we hear about any response from Apple we'll let you know. What with many complaining about the Apple Maps app on iOS 6 instead of Google Maps, then the 'Scuffgate' issue and now this latest light leakage problem, Apple seems to be rather under fire at the moment. However as we pointed out earlier we must remember that there are many happy iPhone users who are delighted with their latest smartphone purchase.
We'd like to know what you think about this additional problem for the iPhone 5. Has your white iPhone 5 been affected by this issue? Maybe you've noticed light leakage on your black iPhone 5 even though we've not heard about this flaw affecting the black version yet? Let us know with your comments.