Nokia Lumia 820 vs Asha 309, choice time begins
We like to inform readers about new and upcoming smartphones and although the impressive flagship devices such as the iPhone 5 and Galaxy S3 always make big headlines we shouldn't forget the fact that there's still a huge market out there for mid-range and lower-end phones. Nokia has recently announced new Lumia and Asha phones so we'll look at the Nokia Lumia 820 vs. Nokia Asha 309 bid to choose the better of these two.
The Lumia 820 is the less sophisticated cousin of the flagship Lumia 920 but should still find many fans, especially with its sleek styling. Specs and features include a 1.5GHz Qualcomm MSM8960 Snapdragon dual-core processor, 4.3-inch AMOLED display with resolution of 800 x 480, 1GB of RAM and 8GB of internal storage (expandable to 32GB via microSD). Looking at the camera you'll get an 8-megapixel rear camera with autofocus, dual LED flash, Carl Zeiss lens and 1080p video capture and also a VGA front-facing camera.
There's also a 1650mAh battery, compatibility with 2G, 3G and 4G LTE networks, WiFi 802.11 a/b/g/n, WiFi Direct, Bluetooth 3.1, NFC and microUSB 2.0. Dimensions are 123.8mm x 68.5mm x 9.9mm and it weighs 160g. It comes in black, gray, red, yellow, white, blue and violet color options and will run on the upcoming Windows Phone 8 operating system. It will be released at sometime in Q4.
Moving on to the Nokia Asha 309, rather oddly we haven't heard details of the processor and it's not detailed on the Nokia product page for the phone either. It has a 3-inch display TFT display with resolution of 400 x 240, 64MB of RAM, 20MB of internal storage and 128MB of ROM (expandable with microSD up to 32GB with 2GB included). Camera-wise you're looking at a 2-megapixel rear camera with video capture at 176 x 44, with no front-facing camera.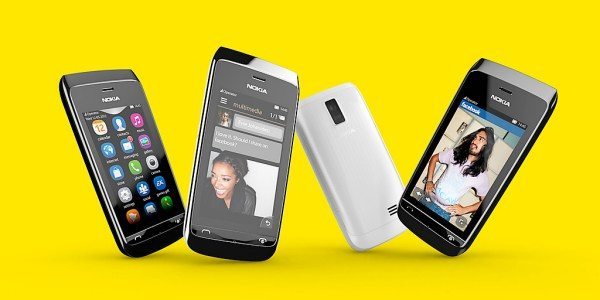 The Asha 309 also has a 1110mAh battery, is a 2G phone, has WiFi 802.11 b/g/n, Bluetooth 3.0 and microUSB 2.0. Its dimensions are 109.9mm x 54mm x 13.2mm and it weighs 102g. It's available in either black or white color options and again there's no precise release date available but it is due to launch in Q4.
As we continued with this comparison it very quickly became apparent that the Lumia 820 towers over the Asha 309 in every respect. The Lumia 820 may be viewed as a mid-range phone when compared to the Lumia 920 but if the 820 is a mid-range phone then the Asha 309 is more bargain basement. The Lumia 820 is compatible with more networks, has a far superior display, better camera set-up, more storage, larger battery and NFC support. The Nokia Asha 309 is a lesser device in every respect but then again Nokia knows there's still a market for budget phones and is attempting to catering for all. To be fair the Asha 309 is also a pretty nice-looking device.
Although there has been no pricing confirmed for either model yet we'd expect there to be a big price gap between the Lumia 820 and the Asha 309 and this is confirmed with initial price rumblings. Leaks from Europe suggest that the Lumia 820 will be around $350 while the Asha 309 may even come in at under $100 which, to be frank, we'd expect for such a low-end phone.
They are both likely to find buyers as the market is so diverse but if you have more cash to splash then there's really no contest that the Lumia 820 is the better all round choice. Tell us if you are interested in either of these smartphones and which one you would opt for by sending us your comments.