HTC 8X WP8 on Three UK, price & November 15 release
Regular readers of Phones Review may have seen some of our posts on the HTC 8X, a Windows Phone 8 device that will launch in November. This will be one of the first devices to run the new Windows Phone 8 operating system and is a signature phone for WP8. Today we have seen leaked information for the HTC Windows Phone 8X on Three UK that reveals the price and also release date of November 15.
Since we first heard about the HTC 8X it has become apparent that this could be an excellent choice for smartphone users that want an alternative to the Android OS platform or the Apple iPhone on iOS. You can see our comparison between the HTC 8X WP8 phone and the HTC One X Android phone here.
As a brief refresher of some of its key specs we can tell you that the HTC 8X has a 1.5GHz dual-core processor, 4.3-inch display S-LCD2 display, 1GB of RAM, and an 8-megapixel rear camera with 1080p video capture along with a 2.1-megapixel front-facing shooter that also has 1080p video capture. Other additions are Beats Audio, a 1700mAh battery and of course it will run on the Windows Phone 8 OS.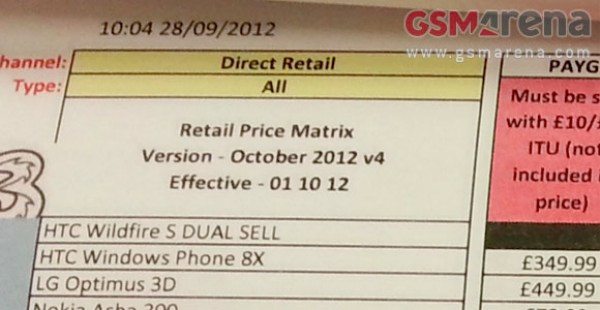 We recently told of SIM-free pricing for the HTC 8X from an online retailer at £399.99 but today we have heard of a lower price, this time from Three UK. A leaked document from Three UK was sent to GSM Arena and the no-contract PAYG HTC 8X will be available at Three for £349.99 (around $564). GSM also says that if you want to purchase the HTC 8X on Three with a two-year contract it will cost you as little as £29 upfront with a £30 monthly payment thereafter and a November 15 release date is also cited.
If you're interested in the HTC 8X you might also like to check out a video of the phone that you can see here. We'd like to know if the HTC 8X appeals to you. Is the handset or the fact that it will be a new Windows Phone 8 device the biggest draw for you? Let us know with your comments.