Google LG Nexus 4 early review disappoints & name news
We've been bringing you the latest developments on what is thought will be the next Google Nexus phone, the LG Nexus 4. This has alternatively been dubbed the LG E960, the LG Optimus Nexus and the Mako at various points but news today suggests that Nexus 4 name is spot on and we also have news of an early review that's a little disappointing.
We recently gave you news on some images that have purportedly been taken with the LG Nexus 4, leaked by a Russian website and had also heard that the same site were soon to issue a review of the phone. We now have further news on that review and frankly for a Nexus phone what we're told is distinctly underwhelming and many fans of the pure Google experience will have been hoping for more. However we must stress that the review is "preliminary" and uses an unfinished version of the phone so hopefully everything will be improved by the time it hits the shelves. We recently told of rumors that October 29 could be when the Nexus 4 is officially announced but at this point that hasn't been confirmed.
So far rumored specs on the LG Nexus 4 have included a 1.5GHz Snapdragon S4 Pro quad-core processor, Adreno 320 graphics, 2GB of RAM, 4.7-inch display with resolution of 1280 x 768, an 8-megapixel rear camera and only 8 of internal storage, non-expandable. The latter part of this concerns a lot of people and we've had comments to previous posts on the Nexus 4 from Nexus enthusiasts who will be very unhappy indeed if the phone does actually arrive with 8GB of internal storage and no option to expand.
News of the early review on the Nexus 4 comes to us from The Verge, sourced from Onliner, and for a phone that hasn't yet been announced we get a good look the device. Appearance-wise it looks much the same as the current Galaxy Nexus and has a hidden LED notification light as does the Galaxy Nexus, as well as on-screen buttons. There are chrome buttons though and apparently during this preliminary review attempts were made to scratch the back plate of the phone, with no success. It could win some points here then after the much-discussed 'scratchgate' issues with the iPhone 5.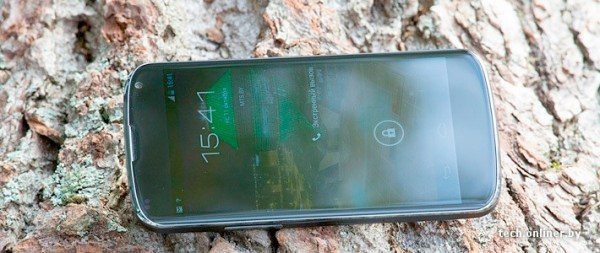 The prototype phone used for the review has a sealed battery with a micro SIM card tray, has a flat screen and a headphone jack on the top. Most worrying is that the device used does indeed only have 8GB of onboard storage with no microSD slot to expand. Of course it's possible that could change by release but it has to be said that at this stage the signs are not looking good and we think this will really disappoint a lot of Nexus device enthusiasts. The quad-core Snapdragon S4 Pro processor seems to be confirmed, along with the phones 2GB of RAM and the 4.7-inch display, which it turns out is an IPS unit rather than an AMOLED display.
The unit reviewed runs on 4.1.2 Jelly Bean although it has also been rumored that it will have Android 4.2 on launch but performance was described as "buggy." The photos we previously mentioned were adequate but not much more than that and we also told of benchmark tests where we would have expected the results to be better. Overall it all sounds like a bit of a letdown but of course we'll remind ourselves again that this is an early review on a device that hasn't yet been completely finished and optimized.
On top of that we have the name news that we mentioned earlier and it does seem as though the LG Nexus 4 as a moniker is almost a done deal. Android Central reports that images posted on Picasa from the upcoming LG Nexus phone have exif data that lists the device as the LG Nexus 4. Although this data can be faked, the fact that the photos were posted by a Google software engineer gives this credence and also the name does tally with that on Carphone Warehouse listings so it does seem likely that the LG Nexus 4 is the final name.
We're interested to hear your thoughts on the early review of the Nexus 4 and particularly the amount of internal storage. Would this be a deal breaker for you if you were considering purchasing this smartphone? Maybe you were hoping for something more impressive overall? Let us know with your comments.