iPad 4 and iPad mini dock connectors compared
Many of you will already have heard of an Apple event taking place tomorrow where we expect to see a smaller version of the iPad emerge, the iPad mini. Yesterday we also heard that a refresh of the current new iPad / iPad 3 is set to join the iPad mini at the event. Apple iPad news seems to be flooding in thick and fast at the moment as we have now heard some initial news about the iPad 4 thought to be on its way in spring 2013.
This is a busy time in the tablet market and we've been giving readers plenty of news and info about the upcoming iPad mini and only yesterday we heard further details of a refresh for the current third-generation iPad. Initially we had imagined an update so soon seemed unlikely but evidence is certainly growing for the refresh. It's thought that the new 'new iPad' will have the Lightning connector that appeared on the iPhone 5, improved heat dissipation and could be even thinner and lighter than the current iPad. As if all this wasn't enough to get us excited we have now heard of new photos purporting to be of iPad 4 components.
Of course the fourth-generation iPad may not actually be called the iPad 4. Before the current iPad was released most tech sites were calling it the iPad 3, which seemed to be the natural progression from the iPad 2. Of course Apple chose to upset the Apple cart, so to speak, by calling it simply the 'new iPad.' Therefore nothing is set in stone for the title of the fourth-gen iPad but we'll continue to refer to it as the iPad 4 for now. The leaked images of iPad 4 components were reported by BGR, sourced from Apple.Pro and the Apple Museum Taiwan, which previously have been pretty reliable sources on new product information.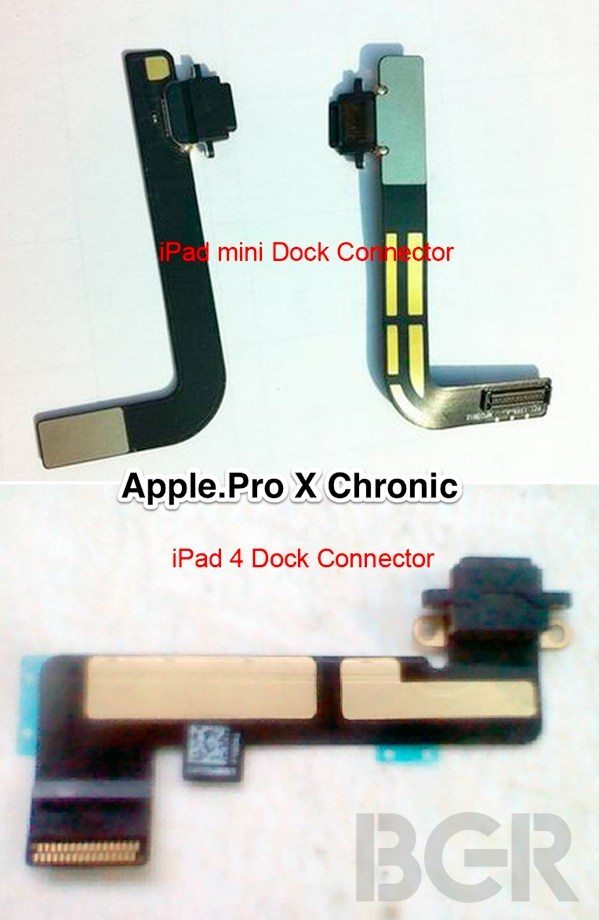 You can see the images above where what is claimed to be a brand-new Lightning connector dock on the iPad 4 is compared to the different connector on the iPad mini. The fact that the iPad 4 dock seems to be entirely different suggests that the interior will have a completely new design with different components. The same sources stress that this is NOT the updated connector dock on the way to the third-gen iPad refresh just to avoid confusion, but is for the iPad expected in spring 2013.
You may also be interested in our recent article where we speculated what might appear on the iPad 4. We're interested to hear your thoughts on the fourth-generation iPad due next year. Perhaps you were already torn between an iPad mini or a refreshed current iPad and now news on the iPad 4 has added another element to the mix? Let us know with your comments.