Galaxy S3 lovers should watch Samsung ATIV S WP8 video
As you know the Galaxy S3 is the darling Android smartphone that has done exceedingly well for old Sammy, but old Samsung is now stepping into the Windows Phone arena with their new Samsung Ativ S smartphone that runs the Windows Phone 8 operating system, and although we are not saying the Ativ S could out gun the Samsung Galaxy S3, the WP8 handset is worth a look.
So with that in mind we have a short hands on video with Sammy's first Windows Phone 8 handset, the Samsung Ativ S, which comes our way courtesy of Engadget who managed to get a little playtime with the new smartphone at Microsoft's launch event, and recorded the occasion.
The Samsung Ativ S spots a 4.8-inch Super AMOLED HD touch screen with a 1280 x 720 resolution, and looks quite a bit like the Samsung Galaxy S3, as the device doesn't sport a unibody build but rather Samsung has gone with the glossy plastic casing found on their Galaxy devices but with a few cosmetic differences.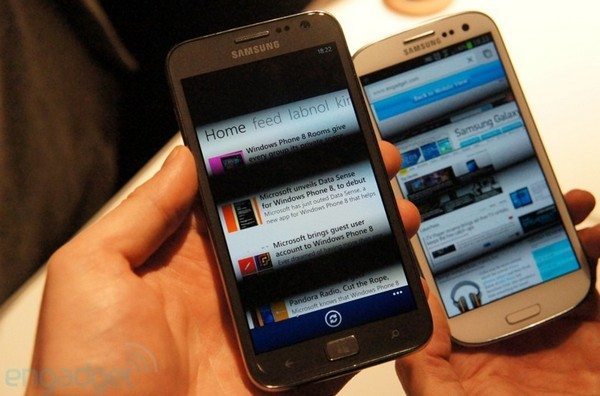 The Samsung Ativ S sports an 8 megapixel rear facing camera with flash, 1080p full HD video recording, along with a 1.9 megapixel front facing camera, on the front of the handset there is a physical button sporting Microsoft's latest logo along with two capacitive buttons for back and search.
The guys spent a little time playing with the Ativ S, and say that the smartphone delivers exactly what one would expect from Microsoft's new Windows Phone 8 UI, whilst the 1.5GHz processor worked well with the operating system's initial offering, and of course the device comes with a few of Samsung's own apps including ChatON, Music Hub and the likes.
Anyway as I have no desire to spoil your viewing of the Samsung Ativ S hands on, I'll leave it right there so you can head on down and hit that play button to check out the footage…enjoy.
What do our readers think of the Samsung Ativ S, is it the WP8 handset for you or would you still prefer the Samsung Galaxy S3?