Nexus 7 with HSPA+, T-Mobile shared data plans needed
We've been writing about a 32GB version of the Google Nexus 7 tablet for some weeks now. The Nexus 7 has been a huge success for Google and Asus who manufactured the device and the option of a larger storage version has excited many as one to add to holiday wish lists. Today we have some further news on the Nexus 7 32GB model with HSPA+ as it's headed to T-Mobile in the US and we feel many would like to see T-Mobile offer shared data plans with this in mind.
We previously gave some news of leaked Office Depot pricing for the Google Nexus 7 for the 32GB variant and today we hear the 32GB Google Nexus 7 with HSPA+ will be offered on T-Mobile through the Google Play store from November 13. This tablet is bound to be a big seller in the run up to Christmas and will be vying against the more expensive but already hugely popular Apple iPad mini, which has already released.
Specs of the Nexus 7 32GB version include an NVIDIA Tegra 3 quad-core processor, 7-inch HD display with resolution of 1280 x 800 and Corning Glass, 1.2-megapixel front-facing camera, HSPA+ 21Mbps, 4325mAh battery and NFC and it runs on Android 4.1 Jelly Bean. According to TMO News it will be priced at $299 /£239 from Google Play here. That's for the unlocked 32GB WiFi and HSPA+ variant while the WiFi-only 32GB version comes in at £199. If you head to the Google Play link above you can sign up for notifications for when it becomes available.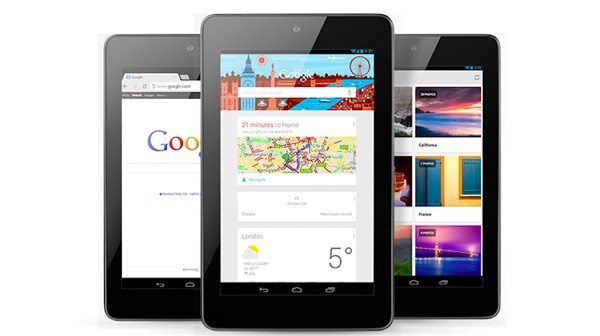 We think this is going to be a popular choice alongside the iPad mini and also the Kindle Fire HD for the tablet market but it does make us wonder how many readers would like to see T-Mobile offer shared data plans. It seems to us that plenty of consumers would rather add the Nexus 7 32GB to an existing data plan than set up a new data plan completely. As tablets are becoming more and more popular it would make sense to be able to tack on a tablet to an existing phone plan or perhaps T-Mobile should consider a tablet-only no-contract budget data plan.
We'd like to hear from readers who are thinking of purchasing the Google Nexus 7 32GB variant and whether T-Mobile offering a shared data plan would appeal to you? What sort of deal would you like to see put in place? Let us know with your comments.