Samsung Galaxy Note leaked Jelly Bean update ROM
We've been bringing readers news about Android 4.1 Jelly Bean updates being pushed out to various devices and today we have news for Samsung Galaxy Note owners. The 4.1.1 Jelly Bean update is now available via a leaked ROM, ahead of the official update from Samsung and carriers of the device.
We recently told how the update was now rolling out to more and more users of the Galaxy S3 phone and that it would begin to be pushed out to Galaxy Note owners in Q4. However for those who just can't wait any longer for the official update then the leaked 4.1.1 Jelly Bean build N7000XXLS2 is now available. At Phones Review we always advise readers that it's best to wait for the official update from the manufacturer and relevant carrier for your device. However we know that plenty of readers happily use such leaked ROMS and there were plenty available for the Galaxy S3 that readers took advantage of.
News of the leaked Jelly Bean version for the Galaxy Note came to us from Android Authority, sourced from SamMobile, and frankly if Samsung would only get these updates out more quickly then users would not be tempted to try out the custom ROMs that become available. In the case of the Galaxy S3 the leaked ROMs were probably used by Samsung to test out the Jelly Bean update before it was officially rolled out and that could also be the case with this latest ROM for the Galaxy Note.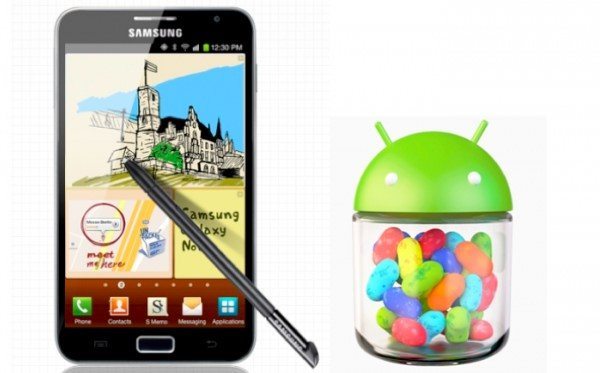 No date has yet been released for the official 4.1.1 Jelly Bean update to be rolled out to the Galaxy Note so if you want to check out the N7000XXLS2 firmware you can do so at the SamMobile link above, although this is entirely at your own risk. However, we should point out that this build doesn't include the Multi-View feature that many people are waiting for but Samsung is currently testing build N70000XXLS3 that should bring this too.
We were just about to wrap up this post when we noted further news from SamMobile regarding rumors that when the Jelly Bean update officially arrives for the original Galaxy Note it may be upgraded directly to Android 4.1.2, rather than 4.1.1 as above, using firmware build N7000XXLS7. The rumors have arisen from a YouTube video and we have no way of telling whether this is authentic, nevertheless it's certainly interesting.
We're interested to hear from Samsung Galaxy Note owners regarding the Jelly Bean update. Will you wait for the official update to come from Samsung and your carrier? Maybe you will try out the leaked ROM to get your taste of Jelly Bean? Let us know with your comments.