HTC DROID DNA Verizon release close as launch event announced
Since the world was first treated to the original Samsung Galaxy Note the appeal for larger screen smartphones has grown, which has seen other mobile phone manufacturers looking to get in on the action. One of these is HTC that has long been rumoured to be developing a 5-inch smartphone, and the company recently unveiled the J Butterfly. Now though it seems that the HTC DROID DNA release is close as a launch event has been announced.
As the Android Community are reporting HTC and US carrier Verizon have revealed that they are going to hold an event next week in New York on November 13th, which will kick off at 11:00AM EST. The press invite doesn't go into specifics about what is being unveiled but considering all the recent leaks there is a good chance that the 5-inch quad core powered smartphone will be making its debut.
Previously it was thought the upcoming HTC device would go under the dlx branding or the DROID Incredible X, but more recent leaks have emerged suggesting the device will be called the HTC DNA. The carrier decided to pass up on the opportunity of offering its customers the HTC One range of smartphones, but many won't mind once this latest smartphone becomes available on the carrier.
It is thought the handset will be based on the HTC J Butterfly that was released in Japan, and is expected to feature a 5-inch touchscreen display with a resolution of 1920 x 1080 that provides an impressive 440ppi. This will be powered by the quad core Snapdragon S4 Pro processor clocked at 1.5GHz coupled with 2GB of RAM.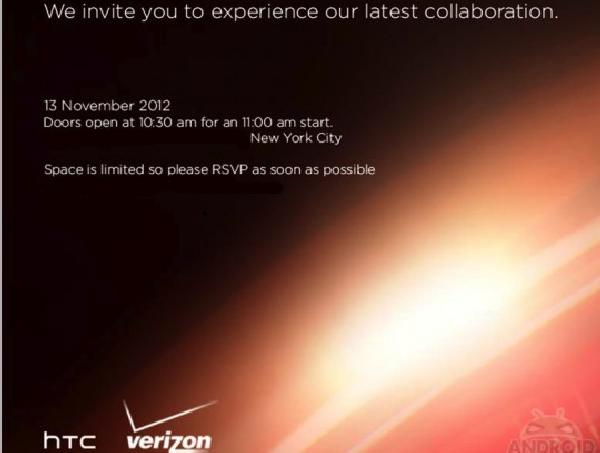 Other features are thought to include 16GB of storage with either an eight or twelve megapixel main camera, and providing the juice will be a 2500 mAh battery. It is thought the HTC DROID DNA will ship running Android 4.1 Jelly Bean with the Sense 4.1 overlay.
A recent leak suggested the handset could be released as soon as next month, but if the device is shown off next week we could see a release in time for the Black Friday rush at the end of the month.
Will you be getting the HTC DROID DNA?