Samsung flexible displays for 2013, RIP Glass
In the past there has been quite a bit of rumour that South Korean tech device maker Samsung will eventually deliver smartphones sporting flexible displays. Previously the mobile space heard that old Samsung would bring their flexible display tech to the smartphone arena within a year; that was back at the beginning of March this year.
Now we have more news on Samsung's move to flexible plastic displays rather than glass ones that will reportedly deliver smartphones that are unbreakable, bendable and lightweight. The Wall Street Journal reports the Samsung Display Co, the Korean Company's display unit is in the final phase of developing their flexible displays.
An unnamed source that is 'familiar' with the matter, has said that the flexible displays are expected to release to the mobile space in the first half of 2013.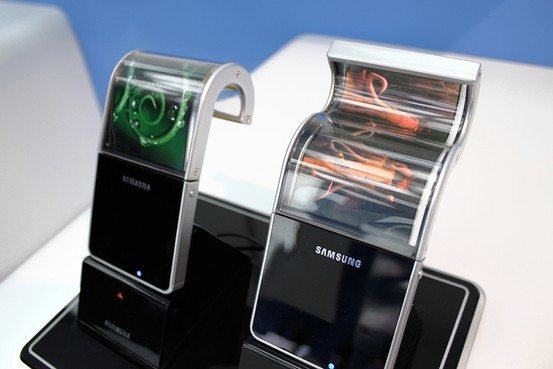 Naturally when approached, Samsung declined to comment on just how much the firm is investing in flexible display tech, and it is still somewhat unclear as to when the mobile space will actually see a flexible display toting smartphone become available commercially.
Apparently the flexible displays will feature OLEDs, which of course is a display tech that Sammy already uses in their smartphones and televisions. OLEDs are thin enough to be placed on metal foil or plastic, and by using plastic rather than glass, the display will become more lightweight and durable.
Lee Chang-hoon, the VP of Samsung's display unit has stated that the firm is sampling the displays with some customers; however a release date for a new product featuring a flexible display hasn't yet been determined.
Woori Investments & Securities analyst Julius Kim has commented that Samsung is continuing to make glass displays for their devices such as the Samsung Galaxy Note 2 and the Samsung Galaxy S3, and as such it would appear that the new displays, profit wise, do not seem to be that attractive.
Thus it is suggested that Samsung is still forging ahead with their flexible display tech, and hopefully we will see the first of these new devices sometime in 2013. Perhaps a Samsung Galaxy Note 3 with a flexible display, or maybe Sammy will put out a Galaxy S4 Flexible at some point next year.
If Samsung does indeed make the switch to plastic flexible displays for their devices, will this mean we will no longer see Samsung deliver future devices with glass displays, and more importantly would people be drawn to smartphones and tablets that feature a plastic flexible display over a glass one?
And what about the names of these new flexible display devices? How about the Samsung Galaxy Flex or Samsung Galaxy Pliant, or maybe Samsung Galaxy Curve, any of our readers have any suggestions as to what they could be called?