12 Days of Christmas app update for Holiday Season Gifts
Here at Phones Review we're really starting to get in the Christmas spirit and apart from adding some great devices to our wish lists there are always some Christmas apps around to add to the fun. One of our favorites is from Apple, the iTunes – 12 Days of Christmas app, newly updated for Christmas 2012 and guaranteed to give you some lovely surprises and treats over this festive time.
The app gives users a wonderful selection of all sorts of goodies to download, from songs to music videos, apps, books and TV episodes and even better it's a free app giving freebies! The idea is that over the 12 Days of Christmas the user will find a new treat for each day that is available only for 24 hours. The first gift will be available on December 26th with a new treat every day until January 6th.
The iTunes — 12 Days of Christmas version 2.1 is available from iTunes here and is compatible with the following devices as long as they're running iOS 5.0 or later – the iPhone 3GS, iPhone 4, iPhone 4S, iPhone 5, iPod touch (3rd generation), iPod touch (4th generation), iPod touch (5th generation) and iPad. It's optimized for the iPhone 5 to make the best use of the larger screen on the latest iPhone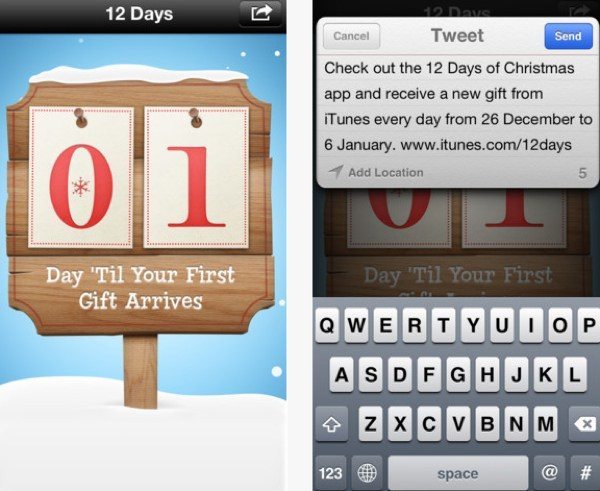 If you haven't got an iPhone, iPad or iPod touch you don't have to miss out either as the release notes of the add state that you can "come back December 26 to download gifts from your computer." Last year we used this app and it was a real bonus to get an unknown treat every day for 12 days over Christmas. Strangely though, the app is only available to iOS device owners outside of the U.S, which will no doubt disappoint some people. You may also be interested in our look at Christmas shopping apps here and of course Christmas wouldn't be the same without the NORAD Santa Tracker.
We heartily recommend this 12 Days of Christmas app and would like to hear from you if you download it too. Also why not send us your comments to let us know your other favorite Christmas apps to share with our readers.