Samsung Galaxy Note 3 & S4 specs to electrify
Of course the next devices expected to come out of the Samsung camp is the Samsung Galaxy S4 and the Samsung Galaxy Note 3 extending their hugely popular and successful line of Galaxy Android devices. When it comes to the Galaxy S4 the rumour is old Sammy could possibly launch the handset after the Google guys announce the next big update to Android, currently being called Key Lime Pie, whilst some believe the SGS4 will release with Key Lime Pie aboard.
When it comes to the Samsung Galaxy Note 3, rumour has it that there is a possibility that the Note 3 could come out sporting Samsung's new unbreakable flexible display tech, the same tech has also been rumours for the Samsung Galaxy S4.
However of course we don't really know what both devices will offer the mobile space just yet, nor do we know what each device will look like. So what we have for your consideration today is a Samsung Galaxy S IV concept and a Samsung Galaxy Note 3 concept which come our way courtesy of Concept-Phones.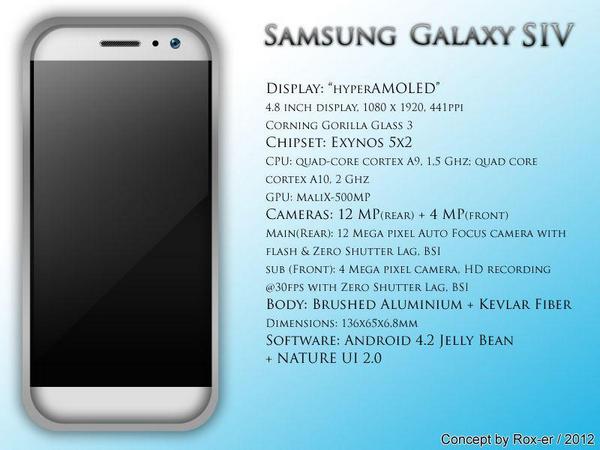 So let's kick things off with that Samsung Galaxy S IV concept which has been designed by Victor Monteiro of Brazil. He designs the Galaxy S 4 with an elongated shape sporting a 4.8-inch 'HyperAMOLED' 1080p touch screen protected by Corning Gorilla Glass 3.
This Galaxy S IV would come packing a 12 megapixel rear facing auto-focus BSI snapper with zero shutter lag and flash, along with a 4 megapixel front facing camera, and the handset will be an 8 core device sporting an Exynos 5X2 chipset, a 2GHz Cortex A10 quad core chip and a 1.5GHz Cortex A9 quad core chip along with MaliX 500 graphics processor.
The concept SGS IV would be made of brushed aluminum and Kevlar fibre, whilst the device would be running Android Jelly Bean 4.2, Nature 2.0 UI and would be the first Galaxy S handset lacking a home button.
Moving on to the Samsung Galaxy Note 3, the device is a concept by Erica Yusim, and this Note 3 concept has the device sporting a 5.8-inch FHD Super AMOLED touch screen, a processor called a bigLITTLE processor which apparently means the smartphone/tablet combo will have 8 cores sporting both a 1.4GHz Cortex A7 quad core processor and a 2GHz Cortex A15 quad core processor.
The concept Samsung Galaxy Note 3 would also have 3GB of RAM along with 32GB up to 128GB of ROM, and also sport microSDXC expansion up to 128GB. On the rear there would be a 13 megapixel snapper and on the front a 3 megapixel snapper, would run Android Key Lime Pie, and sport a 4000mAh battery and all being housed in an 8.9mm thick housing, and of course would sport the S Pen functionality.
So there you have it, what do our readers think about these concepts of the Galaxy S4 and Galaxy Note 3?