BlackBerry Z10 Verizon Model and Case-Mate Cases
Along with the rest of the tech world we've been following the progress of the much-awaited BlackBerry 10 operating system and the devices that will run it for what seems like many moons now. The big unveiling event for BlackBerry 10 is coming on January 30th and the importance of its success is crucial to RIM as about its only chance to claw back ground against its competitors. The BlackBerry Z10 has been rumored as the first phone that will release on BB10 and we now have news that it looks as though it will be carried by Verizon as well as details of Case-Mate cases for the phone.
Yesterday we told readers about plans for six BlackBerry 10 smartphones this year with the first two being expected to be introduced at the event in January. There was no precise news on which carriers they were heading to but we did learn that three of the major US carriers, Verizon, AT&T and T-Mobile, have all expressed an interest in offering BB10 smartphones.
The Z10 recently came to light as one of the first BB10 phones that will be introduced and following that we saw some likely specs and photos of the device as well as a video showing parts. Now we hear that Verizon branding has been seen on a dummy model of the Z10, seemingly indicating that one of the first BB10 phones will be heading to Big Red. The image on a Chinese website was of a rough-looking dummy/demo model with prominent Verizon branding and although it's early days, what we've seen and heard about the Z10 so far seems quite promising.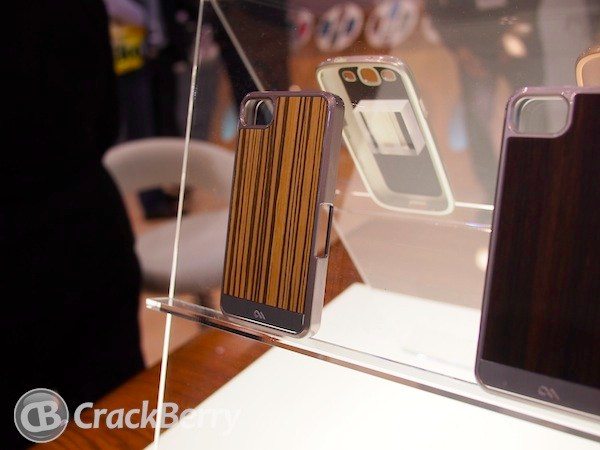 In more news on the Z10 the Case-Mate company has now revealed its line of cases for the BlackBerry 10 device at CES 2013. It's always a good sign that a phone is on track when we start to see accessories beginning to appear so this should please many people waiting to see if RIM can turn its fortunes around. These devilishly good-looking cases for the Z10 (shown above) feature in the Case-Mate 'Crafted' and also the 'Refined' collections with prices for the Crafted cases at around $50 and around $80 for the Refined cases.
We'd like to hear what you think about this latest BlackBerry Z10 news. Are you avidly awaiting the January 30 event to learn more about BB10 and the first devices running it? Does the Z10 look like a tempting proposition to you? Why not send your comments to let us know.