BlackBerry Z10 photo tests and camera filters app
The closer we get to January 30th and the media event that will see the official unveiling of BlackBerry 10, the more excited we're becoming about the new OS and devices that will run it. The BlackBerry Z10 is one of those devices and causing quite a stir and we have details for you today about photo test shots taken with the BlackBerry Z10 camera and also video of the camera filters app of the Z10.
The BlackBerry Z10 will be the first phone launched running BlackBerry 10 and as such is gathering a lot of attention. It's no secret that RIM is depending on BB10 and new hardware to turn around its ailing fortunes and although we once felt that perhaps too much emphasis was being placed on BlackBerry 10, from the leaks we've seen so far things are actually looking quite promising. Now some new images that show the camera capabilities of the BlackBerry 10 have emerged and give an idea of the quality we can expect.
The photos on CrackBerry have EXIF data citing RIM BlackBerry Z10 and also look as though they've been filtered using the photo editor app. The images were originally on Flickr but the page has now been taken down. Although the photo editor app with various frames and filters was leaked some time ago there has not been a lot of detail on this so far but following the latest leaked images a new video showing more from the app has also come to light on YouTube. We've embedded the video below this story so that you can view it. This latest short video of the photo editor app shows it in use with an early build of the Z10 and the app software is also not the final software. It gives a look though at the filters and styles available and initial impressions are good.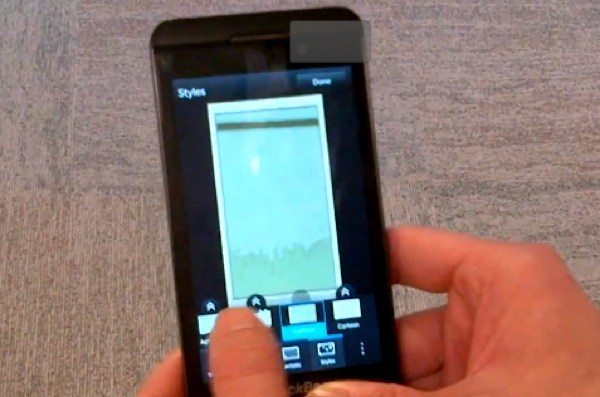 RIM stocks have been rising the closer we get to the launch of BB10 and the Z10 could be a device that justifies that faith shown by investors. The release date for the Z10 has not yet been made official but we recently told of a leaked T-Mobile US roadmap showing a launch date on T-Mobile of March 27th although a previously leaked inventory showed a BB10 device that could be the Z10 with a release date of February 28th. For now then we should take those dates with a pinch of salt.
We'll be following BlackBerry 10 and Z10 developments and will pass on more information as we hear it. What are your thoughts on the Flickr images on CrackBerry taken with the Z10 and the video below showing the photo editor app? Are you waiting eagerly for BB10 or do you think it may disappoint? Let us know with your comments.