New Sony Xperia SP vs Xperia V in Photos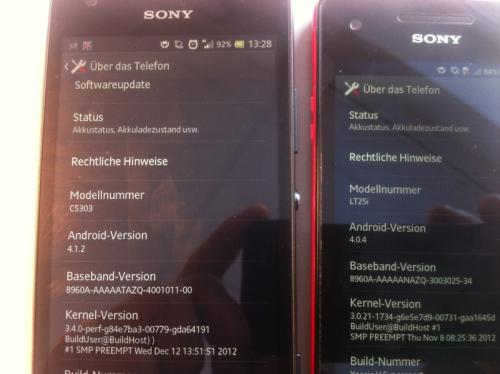 This year looks to be an important one for Sony as since its split from Ericsson the company is looking to make a bigger impression on the smartphone market, and got the ball rolling last year with the launch of the Xperia T, and we now have news of the Sony Xperia SP vs the Xperia V in some photos.
The Sony Xperia Z has been grabbing the headlines recently with the device recently getting priced in the UK after pre-orders getting started with carrier Three, but now some images have appeared of an upcoming handset side by side to the already available Xperia V that has recently begun receiving the Android 4.1.2 Jelly Bean update.
It seems the Xperia SP is the name for the device that had the codename of HuaShan previously and the model number of C530x, and looking at the images it can be seen the Xperia SP will be slightly larger than the 4.3-inch Xperia V with a 4.5-inch display at a resolution of 1280 x 720 while running the Android 4.1.2 Jelly Bean OS.
Previous rumours have suggested the Xperia SP will have the dual core Qualcomm Snapdragon S4 processor clocked at an impressive 1.7GHz under the hood, and there is also 4G LTE connectivity. According to sources the handset has a plastic rear cover that can be removed to install the micro SIM and microSD card, but the battery is not supposed to be removable.
We can expect to see the handset revealed officially later this month at MWC 2013 and it certainly looks as if Sony will have a much bigger presence in the smartphone market this year.
Are you getting any of Sony's new handsets this year?
Source: Android Hile via Google Translate.