LG Optimus L3II, L5II & L7II UK introduction and availability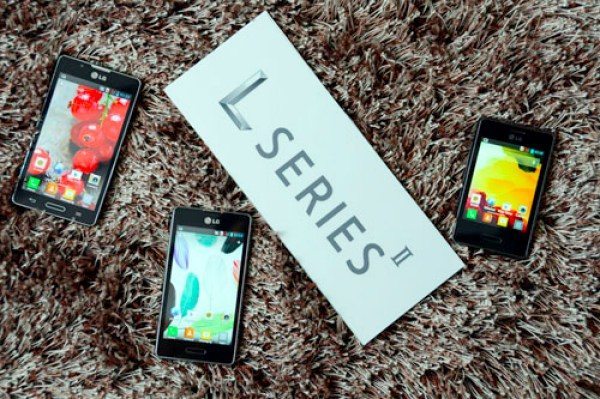 We have news today of the next-generation Optimus LSeries to be introduced at MWC 2013. The new L Series II phones have evolved to offer contemporary design and improvements on the original L Series and look set to continue the success of the line with style and refinement and some distinguishing features. We have an introduction to the L Series II for you, which includes the L Optimus L311, the Optimus L511 and Optimus L711 and some details of availability for the UK.
The new L Series II takes on four particular design elements that LG has dubbed Seamless Layout, Laser Cut Contour, Radiant Rear Design and Smart LED Lighting for the home button. User-convenient features include QuickMemo for sharing handwritten ideas, Quick Button to personalize a hotkey and Safety Care, offering Emergency Call Forwarding, Phone Non-Usage Notice and My Location Notice.
L Series II handsets also include high-resolution IPS displays, with larger capacity batteries and dual-SIM versions for easy switching between business and personal use. The first of the L Series II to launch will be the L711, initially arriving in Russia this week. Key specs for the L711 include a 1GHz dual-core processor, 4.3-inch WVGA IPS display, 768MB of RAM and up to 4GB eMMC internal memory with microSD slot.
The Optimus L711 also has an 8-megapixel rear camera with LED Flash and a front-facing VGA camera, a 2460 mAh battery and a 2460 mAh battery and runs on Android 4.1 Jelly Bean and the L711 will have unique QSlide and QuickTranslator UX features. This is expected to be available in the UK sometime this spring.
Apart from the L711 there is the Optimus L311, which will have a 3.2-inch QVGA IPS display and 1540 mAh battery and also the Optimus L511 which has a 4-inch WVGA display and 1700 mAh battery. These will be announced with full details at a later date.
We'd like to know if you will consider a new LG L Series II handset when they release? Maybe you were a fan of the original L Series and can't wait to see these new arrivals? Let us know with your comments.