Sony Xperia Z available to purchase now for delivery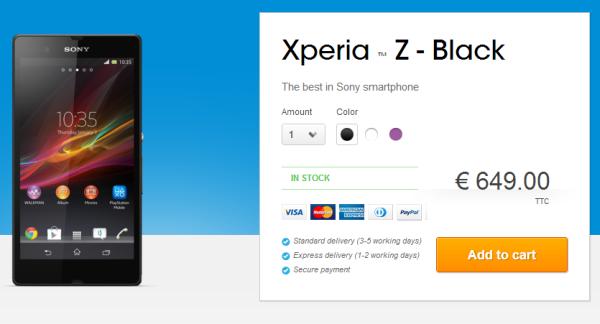 There are a number of Android fans looking forward to get their hands on the new offering from Sony, the Xperia Z. The company is set to raise the bar to what it has offered smartphone wise in the past, and even bettering the worthy Xperia T that was released last year, but now we can tell you that the company's latest flagship device the Sony Xperia Z is available to purchase now for delivery.
We recently heard that the Sony Xperia Z would be available in the German Sony Store in Berlin this coming Thursday, February 21st, which would come earlier than the previous release estimate of the 28th. Now though Sony has released the handset even earlier as it is available to purchase now via the company's online store in France.
Sony has priced the Xperia Z at €649 with express delivery available in one or two days, and the smartphone is available in white, purple, and black colour options although at the time of writing the website is showing the purple colour option is out of stock.
The handset has already been available to consumers in Japan, but the company certainly seems to be getting the handset out to its fans as quickly as possible. The price does seem a little steep tough as the official UK price on the Sony store has been set at £529, and considering the Pound has dropped against the Euro recently you would have thought the pricing to be almost the same.
A number of carriers have already got pre-orders for the handset underway already as earlier today we gave you the prices for the Sony Xperia Z on UK carrier Vodafone.
Are you getting the Sony Xperia Z SIM free?
Source Sony Mobile via Google Translate.