iOS 7 concept videos show some great ideas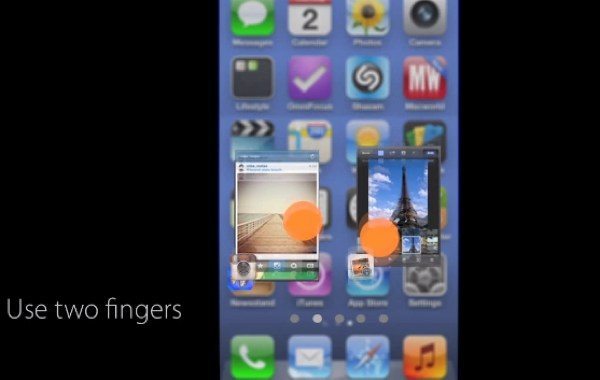 There has been a lot of talk lately about the next major Apple mobile operating system, iOS 7. A new iOS usually appears just before the next iPhone release and there are plenty of ideas already being bandied about for what new features and improvements could be made following iOS 6. Today we have some videos to show you that have some great ideas that could be incorporated into iOS 7 and we'd like to know what you think, or what else you'd like to see.
Earlier this month we posted an article that showed three concept videos for iOS 7 and potential improvements that could be made. Today we have some more videos from YouTube showing other aspects that would be good additions for iOS 7. The first video is an iOS quick-app-switching concept and you can see the short 23-second video below this post, along with the other videos we're going to mention. The quick-app-switching idea actually comes from the creator of the much-praised Auxo jailbreak tweak, Sentry and would make the app-switching process much quicker.
The next brief video we have to show you is iOS prototype — lock screen drawer. This video is from imjeanmark and shows a provision for quick toggles for Bluetooth and more from a tray accessible from the lock screen. We then have an iOS 7 multitasking concept 48-second video from BlogB13, which shows some very neat multitasking ideas. The same creator came up with an iOS 7 notification center concept (version 2) in our previous post linked to in the second paragraph.
BlogB13 has also designed a new social hub app as an overhaul for the iOS contacts app and you can also see this video below our story. Finally, one thing that has been mentioned many times as an improvement for the next major iOS update is widgets and we've also got a short video showing a resizable app icons concept from YouTube user Max Rudberg.
So far there have been mixed reports about whether the next iPhone will be the iPhone 5S or iPhone 6 with some leaks suggesting we could see both models this year. There is also a split between those who feel the next iPhone will come in the summer after Apple's WWDC or in the fall but either way we'd expect the arrival of iOS 7 to tally closely with that of the next iPhone. We've already spoken about some of the features mentioned on wish lists for iOS 7 and one thing we feel strongly about is that Apple needs to come up with something fresh, and dare we say groundbreaking, for iOS 7.
We'd like to hear from you then about what you'd like to see on iOS 7? Do you like the ideas in any of these concept videos? Maybe you have your own ideas for something that could make iOS 7 truly innovative? Let us know with your comments.