Android enterprise activations fall while iOS thrives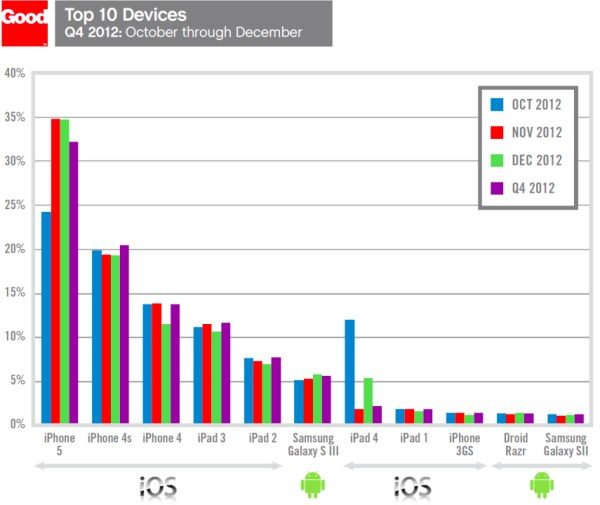 Only yesterday we told how a Galaxy S4 with Samsung's new KNOX initiative could be a step forward in the right direction for the Android platform in the enterprise market. If the new security software solution makes a good enough impact it could really attract more enterprise users to Android devices. Sadly however, KNOX wasn't here in time for the Q4, 2012 figures just released, which show that Android enterprise activations have fallen while Apple's iOS platform has thrived.
Of course Samsung isn't the only Android manufacturer and so can't be held solely responsible for the lack of business interest in the Android platform. Nevertheless it is the most dominant Android manufacturer and it will certainly be interesting to see if the KNOX project can begin to turnaround the figures once the feature becomes widely available later this year (for more on KNOX see here). For now though the fourth quarter figures will be a disappointment for Google Android device makers as the platform's share of the enterprise market actually dropped to 22.7%, a decrease of 6.3% year-over-year.
The latest Good Technology Device Activation Report looked at enterprise device activations for Q4 and found that iOS was still dominant for business use with activations accounting for 77% of the market. That's an increase of 6% from the previous year, around the same as the Android fall. Significantly, the next largest share of the enterprise market after iOS and Android was Windows Phone with a paltry 0.5% of activations (although outside of the enterprise market the Windows Phone share of the market has recently shown growth).
Of the 10 most popular devices for enterprise use, Apple iOS devices took 8 of those places with the iPhone 5 beating all contenders with 32% of all enterprise activations. The Galaxy S3 was the most favored Android smartphone and this received 6% of enterprise activations. As far as tablets go the iPad completely washed away the competition with a massive 93.2% of enterprise activations (all models) while Android devices accounted for just 6.8%.
We'd like to hear your thoughts on these latest enterprise statistics. Do you think that the Android platform can turn things around with new initiatives that will attract more interest from enterprise users? Maybe you think that BlackBerry's new BB10 operating system and the devices running it may boost the BlackBerry platform in the enterprise market again? Let us have your comments on this.
Source: Good Technology