iOS 7 actionable Notification Center concept impresses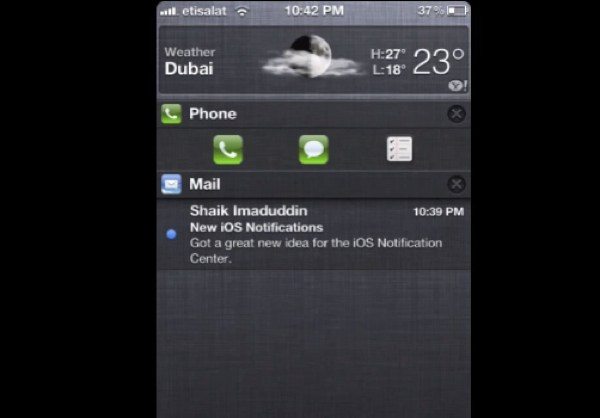 Apple's next major update to its mobile operating system will be iOS 7 and this is likely to release just before the next iPhone 5S or 6, due in either summer or fall. We've already shown you some great concept videos showing real potential for iOS 7 and today we have another video to share with you showing an idea for an iOS 7 actionable Notification Center. After viewing the video we were pretty impressed and would like to know your thoughts?
Although of course these are concept designs and not anything that has officially come from Apple, we enjoy looking at these from time to time as they give us a really good idea of just what could be possible for new devices or OS updates. The concept in the video that you can see below this story was created by Shaik Imaduddin and he has come up with a more interactive notifications center.
This would mean that without leaving the Notification Center of the iPhone users would be able to mark emails as read, delete emails, and read new ones all via actionable alerts. Without the need to open apps the concept brings more effectiveness to the Notifications Center. For example if the user swiped left on a notification options would appear that the user would usually only see by opening the related app and taking further steps.
This would be a real step forward for Apple and we've often said that for iOS 7 Apple needs to come up with some fresh ideas and this would be something worth considering. The iOS Notification Center concept video is almost one-minute long so why not take a look and then come back to let us know what you think of this idea. Do you have your own idea of what other improvements could be made in iOS 7? What is on your iOS 7 wish list? Let us know with your comments.