Nexus 5 with Key Lime Pie imagined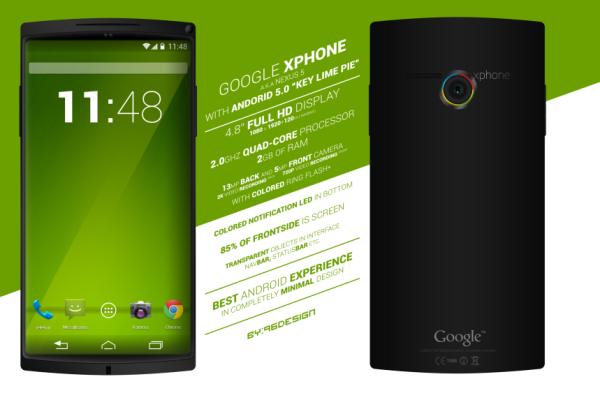 There has been a lot of speculation surrounding future Motorola products that will eventually become available now the company has the backing of search engine giant Google behind it. We have heard talk of a handset going under the name of Motorola or Google X phone, and today we have the Nexus 5 with Android Key Lime Pie imagined.
We often bring you some stunning concept phone ideas from a variety of talented designers and today's one is no different. The image you can see on this page is the work of Deviantart member 96design, that is the idea of the Google X phone or Nexus 5 that is running the yet to be announced Android Key Lime Pie operating system.
The smartphone would come with a 4.8-inch Full HD touchscreen display that as you can see by the image has virtually no bezels surrounding it. Under the hood is a quad core processor possibly a Qualcomm unit running at a clock speed of 2GHz that is paired with 2GB of RAM.
Other specs would include a 13-megapixel camera on the back with a massive 5-megapixel front facer, which may seem a little farfetched but we are already seeing handsets featuring cameras such as this.
The classic Nexus logo can be seen on the back along with a coloured notification LED towards the bottom of the device, but as we heard yesterday Google may delay the unveiling of Android 5.0 to after next month's I/O event, so it may be a while yet before we see handsets running the software.
Source: Concept Phones.