Sony Xperia Honami envisaged, makes us drool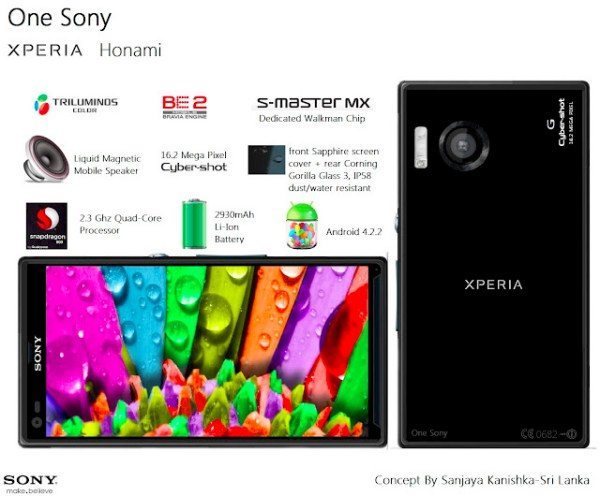 We've recently written a couple of posts about the rumored Sony Honami camera smartphone and the leaked specs so far have been really exciting, enough for us to think it could more than compete against the impressive HTC One and Samsung Galaxy S4. It's thought that this 'Sony One' phone will release in Japan in July with other world regions following and now we've seen a Sony Xperia Honami device envisaged by a designer that makes us drool.
Occasionally we like to take a look at concept devices as they often offer us a good idea of just how good a phone or tablet could be. This Sony Xperia Honami rendering is a really good example of this and we'd like to know if you'd like the real deal to look similar to it.
The concept Xperia Honami is pictured below and came from the mind of Sanjaya Kanishka of Sri Lanka. His perception of how the phone should look is pretty impressive, showing a sleek, clean design that could turn heads. His Honami features Corning Gorilla Glass 3 on the rear and Sapphire Glass on the front with Aluminium Oxide compounds on the corners to give extra protection against bumps and scratches and there's also an edge-to-edge Triluminos screen for more natural colors.
Kanishka has also detailed the specs he'd like to see on this Xperia Honami made up from some of the rumored specs of the real Sony Honami as well as his own ideas. These include a 2.3GHz Qualcomm Snapdragon 800 quad-core processor, Adreno 330 GPU, 5-inch full HD display, 2GB of RAM and 32GB of internal storage, expandable via microSD up to 128GB!
The real Sony Honami has its focus (excuse the pun) very much on the camera and more specs of this concept include a 16.2 megapixel cyber-shot camera with Sony G Lens, Xenon flash and 1080p@60fps video capture. It also has as 2.2-megapixel front-facing camera with 1080p@30fps. Connectivity includes Wi-Fi, Wi-Fi Hotspot, MiraCast, 4G LTE, NFC, Bluetooth 4.0 USB On the Go and HDMI via MHL and the phone runs Android Jelly Bean 4.2.2.
As if all this isn't enough it would be IP58 water and dust resistant, have liquid magnetic speakers, S-Master MX dedicated audio chip and wireless charging and to top it all off, a 2930 mAh battery. Pretty impressive stuff although we can only wonder at the price of such a device! You can see more on the leaked specs we've heard of so far for the real Sony Honami here and here.
While we wait to hear further news on the genuine Sony Honami we'd love to know what you think of this imagined version. If the phone actually released with these specs would you be rushing to the store to get your hands on it? What do you think of the design of the handset itself? Let us have your comments.
Source: Mobilized Tech