Alcatel One Touch Idol Ultra goes on sale in Asia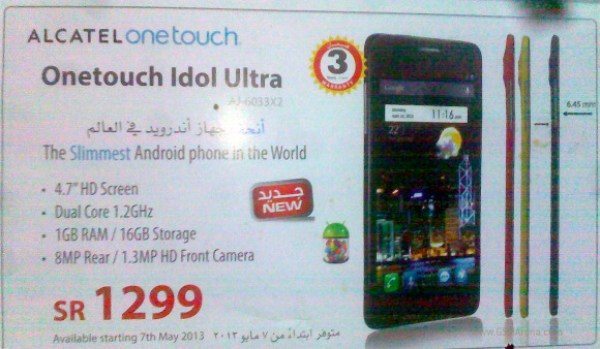 If you've been waiting for release news for the Alcatel One Touch Idol Ultra smartphone then we can tell you that it is now available in some Asian markets. For now this is claimed to be the world's slimmest smartphone although we've now seen various devices claiming that title. It's still extremely slim though and we have more details ahead.
Way back in January we heard that the Alcatel One Touch Idol Ultra would not be releasing in the US or UK but some regions of Asia will definitely be selling this phone. Although its stated measurement by Alcatel is 6.45mm thick this is debatable as the thickest part of the phone measures more around the camera module area. Also we recently told how of the UMeox X5 phone that will measure only 5.6mm thick when it eventually launches.
Specs of the One Touch Idol Ultra include a 1.2GHz MediaTek MT6577 dual-core processor, PowerVR SXG531T GPU, 4.7-inch 720p AMOLED display, 1GB of RAM and 16GB of internal storage (non-expandable). The phone also has an 8-megapixel rear camera capable of 1080p video capture, a 1.3-megapixel front-facing camera and runs Android 4.1 Jelly Bean.
The image below shows an ad for the Alcatel One Touch Idol Ultra with a price of SR 1299 and you can clearly see a release date of May 7. If you're in Asia have you seen this on sale in your country yet? Maybe you could share the information with other readers by sending us your comments.
Source: GSMArena