Samsung flexible tablet with edge to edge display flaunted
The idea of flexible displays coming to the next swathe of flagship devices has been rumored for several months now and many major manufacturers are in a race to be the first to produce such a device. Samsung has been one of the known innovators in this field and although we might not see these devices this year, while we're waiting we thought we'd give you a look of a Samsung edge to edge flexible tablet as an idea of what could be coming in the future.
For some time it looked as though this year's Samsung Galaxy S4 or Galaxy Note 3 might feature a flexible display but they didn't appear in time for the Galaxy S4 and now don't look too likely to make it in time for the Galaxy Note 3 either. Although Samsung has shown prototypes of devices with its YOUM flexible OLED panels and curved displays the giant manufacturer recently said it was now unlikely that any of these phones or tablets would make it to a release this year.
Recently a Samsung patent was revealed showing a flexible tablet with edge to edge display and although there's no news yet on when that will come to light we can show you a claimed render that was recently sent to Mobileaks.nl. The tipster claims that this is a render of a Samsung flexible tablet and has also provided a list of specs but we have no way of verifying whether in fact this is based on a real Samsung prototype or whether it is just a concept based on the leaked Samsung patent.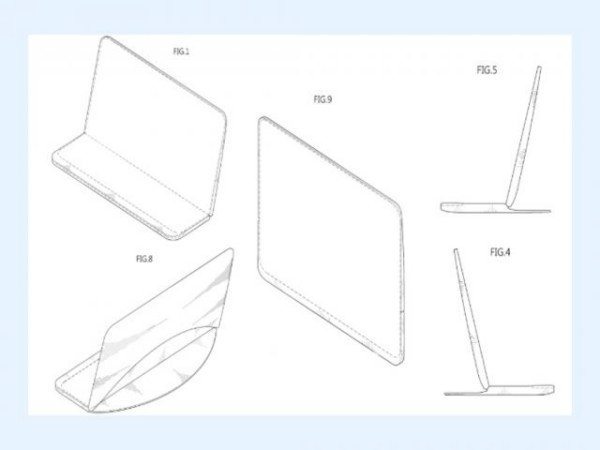 Nevertheless, real or not, we thought it was worth sharing this with readers as it does offer a look at possibilities for a flexible Samsung tablet. You can see the leaked patent above while the render can be seen below this story. Specs for this Samsung tablet include a 1.6GHz Exynos 5 Octa processor, 10.1-inch flexible AMOLED display with resolution of 1920 x 1080, 2GB of RAM and 32GB of internal storage, expandable to 64GB via microSD. There's also a 3-megapixel front-facing camera capable of 720p HD video capture and 8000 mAh battery.
A built-in stand on the reverse of this tablet would balance the device when in flexible mode while part of the screen could be horizontal and in this position could be used as a keyboard, giving more of a laptop experience. It's certainly an interesting idea and looks extremely stylish but despite the vast amount of money being spent on their development we're not convinced that flexible displays will really be that beneficial. This is where you, the reader comes in.
We'd really like to hear from you about flexible displays on future devices and your thoughts on this. Do you think flexible displays are the way forward and have many practical advantages (apart from durability) or maybe you think it's more of a novelty that will soon wear off? Let us know with your comments.