Samsung Galaxy S4 quality vs Nokia Lumia 521 cheapness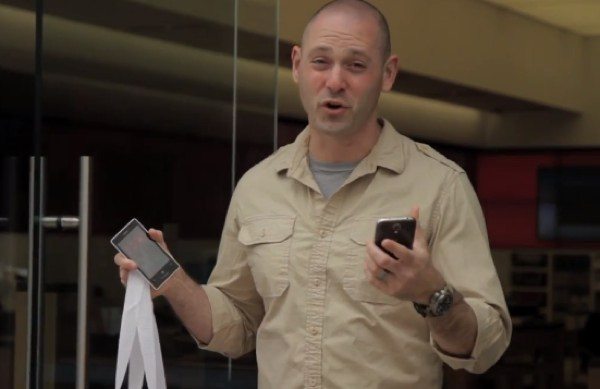 Some people might say that the Samsung Galaxy S4 and Nokia Lumia 521 are about as far apart in specs and features as Earth and the Moon. We were a little surprised then to see the latest Microsoft promo ad pushing the Windows Phone Lumia 521 against Samsung's mighty flagship Galaxy S4 Android smartphone. However, this comparison focuses on Samsung Galaxy S4 quality vs. Nokia Lumia 521 cheapness.
Straight away we want to say that both of these phones have a lot to offer considering their respective prices but comparing the S4 to the Lumia 521… really? Specs-wise these phones are not in the same league but then we stress that they are not intended to be. There is a place on the market for premium devices as well as the more affordable phone, and that has to be a plus for consumers.
As a very brief recap we'll remind you that the Samsung Galaxy S4 specs include either a 1.9GHz Qualcomm Snapdragon 600 quad-core processor or 1.6GHz Exynos Octa-core processor (dependent on region), a 5-inch Super AMOLED display with resolution of 1920 x 1080, 2GB of RAM and 16GB, 32GB or 64GB of internal storage, expandable via microSD. It also has a 13-megapixel rear camera, a 2600 mAh battery and LTE support plus it runs the latest available Android OS, 4.2 Jelly Bean with Samsung's TouchWiz user interface.
The Nokia Lumia 521 is a variant of the Lumia 520 for T-Mobile USA and includes a 1GHz Qualcomm Snapdragon dual-core processor, 4-inch WVGA IPS LCD display, 512MB and 8GB of internal storage, expandable via microSD. There's also a 5-megapixel rear camera featuring Carl Zeiss lens technology and 1430 mAh battery. We haven't room to list the many features of both devices but to find out much more about both head here for our previous posts on the Galaxy S4 or here for posts on the Lumia 521.
As you can see, you could sail a boat across the gulf between these two devices specs-wise, but then again the prices of both devices are also very wide apart. That is very much the focus of the promo ad for the Lumia 521 that you can see below this story. The video begins pointing out the price difference with the guy saying that he just purchased the Lumia 521 on T-Mobile for $149 off-contract and the Samsung Galaxy S4 for $750 off-contract, hence a $600 price difference.
We have to point out here that prices vary depending on where you purchase these phones, and we've seen the Galaxy S4 unlocked on sale at a far cheaper price than the $750 quoted in the promo. For the purpose of the ad though, of course Microsoft will use the most expensive price found for the Galaxy S4. If we go with the $600 variation between the two devices for now, then obviously that is a great deal of money that could be spent on other things, and the promo goes on to drum that fact in.
The promo then tells us many other things that we could spend that price difference on (strangely enough at the Microsoft Store!). While this may be true we do think it's a little silly of Microsoft to pit the virtues of the 521 against the Galaxy S4. The Galaxy S4 is already set to be the Android hit of the year and the Nokia Lumia 521 has also proven its popularity by selling out quickly. They are completely different devices, aimed at different customers and at different ends of the market.
Picking out one single factor, such as the price, is rather pointless as it's like comparing a night spent at the Ritz to a night in a Travelodge. Those who want a top-notch handset with specs to match will know they have to pay more for it and will enjoy the experience it gives them. Similarly there are others who'd rather save the money and have a less swanky experience that is nonetheless perfectly adequate. We say there's room for both but we'd like to hear your thoughts on this.
Would you choose the Galaxy S4 or save some dosh by opting for the Lumia 521? Maybe the Lumia 521 has everything you need in a phone, and so you don't see the need to spend any more? Perhaps you will always want a high-end phone and are willing to pay the price for that? Let us know with your comments.