Samsung Galaxy S4 LTE-A vs. S4 in visual review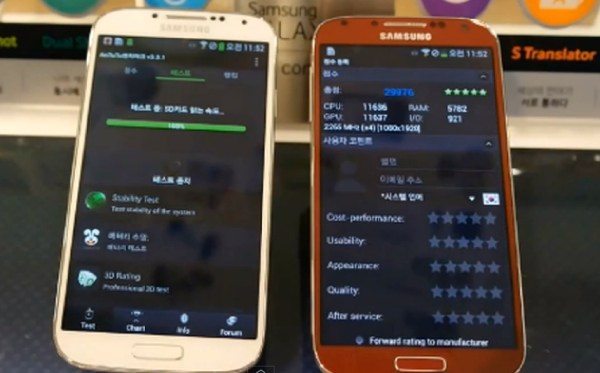 The recently released Samsung Galaxy S4 is flying off the shelves at the moment, and we recently informed readers about a new variant, the Samsung Galaxy S4 LTE Advanced. This model has just been announced for the South Korean market, and it will be released in other world regions over the coming months. Today we have a couple of videos that show the Samsung Galaxy S4 LTE-A vs. S4 in a visual review.
Although the standard Galaxy S4 is a very impressive handset, the Samsung Galaxy S4 LTE-A (Advanced) has caused a huge wave of interest. One of the reasons for this is that it uses the coveted Qualcomm Snapdragon 800 chip. We first heard rumors of this possibility earlier this month following an AnTuTu benchmark spot, and this was then confirmed by Samsung who said that the LTE-A version of the S4 would be able to transmit data at double the usual speeds.
It will launch in South Korea on SK Telecom's new LTE-Advanced network and apart from LTE-A support and the Snapdragon 800 processor, the remaining specs are the same as for the usual Galaxy S4. Although LTE Advanced networks are not yet available in most regions, LTE-A offers double the upload and download speeds of standard LTE, and the addition of the Snapdragon 800 SoC will make this a very desirable device.
The videos that we have embedded for you below this story show the Galaxy S4 LTE-A and standard Galaxy S4 being put through their paces in two of the most popular benchmark tests. What becomes apparent is that the Snapdragon 800 processor makes a huge difference for the Galaxy S4 LTE-A against the Galaxy S4 with Exynos Octa-core processor (in some regions the standard Galaxy S4 uses a Snapdragon 600 processor).
The AnTuTu benchmark results show the standard Galaxy S4 at 27172, while the LTE-A S4 reached 29976. In Quadrant results the standard Galaxy S4 scored 12525, but the Galaxy S4 LTE-A reached 18581. Bear in mind that the Octa-core S4 used for the comparison is faster than the Snapdragon 600 versions of the phone, and you can see that the results are very favorable for the LTE-A version.
Feel free to check out the videos showing the benchmarks below, and give us your thoughts on the superior performance of the Samsung Galaxy S4 LTE-A vs. the regular Galaxy S4. (Please note there is no sound on these videos and the LTE-A version is on the right). Let us have your comments on this. Will you purchase the LTE Advanced version of the Galaxy S4 if it releases in your region?