Samsung Galaxy S4 with Snapdragon 800 AnTuTu tease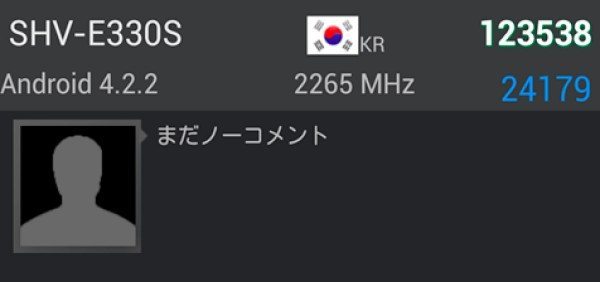 The Samsung Galaxy S4 is an extremely impressive Android smartphone and has already achieved exceptional sales since its recent worldwide release. Now we have news that suggests a Samsung Galaxy S4 variant may be on the way that is powered by the notable Qualcomm Snapdragon 800 quad-core processor. We think this news will go down really well with Android and Samsung enthusiasts.
We've already heard of Galaxy S4 variants such as the Galaxy S4 Active and Galaxy S4 Mini, as well as a Google edition of the handset. We know that these phones are all due to hit the shelves soon, but until today we hadn't heard of a possible SD 800-powered version of the S4. However a new AnTuTu benchmark has revealed an interesting spot that seems to be a Galaxy S4 using the Snapdragon 800 SoC, and this is the first real evidence that this could really be in development.
The device benchmark shows it running Android 4.2.2 Jelly Bean and powered by a 2.3GHz processor and as the SD 800 SoC is known to be able to attain this clock speed it seems likely that it is carrying the 800 chip. SamMobile reveals that if this pans out the handset would also feature Adreno 330 graphics. However, it's possible that this could be a prototype in testing as the AnTuTu score was 24179, which is not that impressive for a Snapdragon 800 score.
Another thing worth noting is that the AnTuTu benchmark showed the model number of this possible Galaxy S4 variant as SHV-E330S. RBMen (Google translated) reports that the Galaxy S4-LTE Advanced (SHV-E330S) is to release in September in South Korea, but at this stage we have no more details on this or whether it would also release in other regions.
This news does tie in rather nicely with our recent article regarding a possibility of Samsung using the Snapdragon 800 in the upcoming Galaxy Note 3. You may also be interested in our post discussing a recent benchmark test that showed the Qualcomm Snapdragon 800 outdoing Samsung's own Exynos 5 Octa-processor.
It would be interesting to hear from readers regarding this AnTuTu benchmark leak that indicates a Samsung Galaxy S4 with the Snapdragon 800 processor. Are you hoping that this device is indeed on the way? Would you buy this device if it releases in your region, or maybe you've already purchased the standard Galaxy S4? Send your comments with your thoughts about this.