Snapdragon 800 tops Exynos 5 Octa in benchmark leak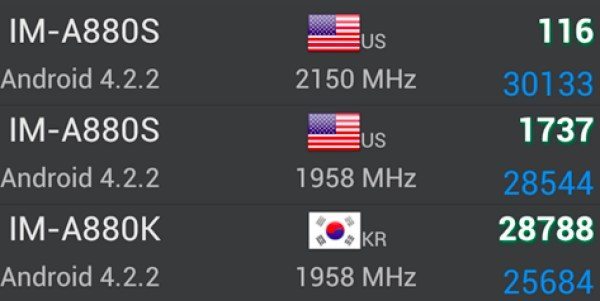 When Samsung came out with its Exynos 5 Octa processor and used it on some models of its new Galaxy S4 this caused quite a stir. However the new Qualcomm Snapdragon 800 processor that should feature in some smartphones and tablets soon is also making waves. Now it seems that the upcoming Snapdragon 800 processor has topped the Exynos 5 Octa in a leaked benchmark test.
Three of the most talked-about Android smartphones of the moment are the Motorola X phone, Google Nexus 5 and Samsung Galaxy Note 3 and there has been speculation that any of these might feature the Snapdragon 800 when they release later this year. The many people waiting for any of these three handsets may be interested in this latest leak that shows the Snapdragon 800 to be faster than the Exynos 5 Octa.
This AnTuTu benchmark showed an unnamed Pantech device IM-A880X using the Snapdragon 800 chipset and the result showed that it is around 10% faster than the Exynos 5 Octa. However we must point out that the device used could have been a prototype at the testing phase and not a finished retail model so the performance might not be exactly the same by the time the device actually releases. Nevertheless it's a good early result that seems promising.
LG and Sony are also both in the mix to be using Snapdragon 800 processors in devices later this year and below this story we've embedded a video for you that shows a Snapdragon 800 demo look. We're interested to hear your thoughts on the Snapdragon 800 so do send us your comments. Are you waiting for the first devices to release using this chipset?
Source: RBMen Via: Android Authority