Sony Xperia Z Ultra Magnetic Docking Station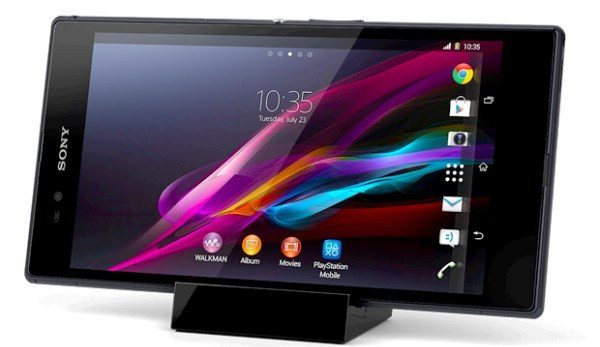 One phone that we have been giving readers plenty of information about recently is the Sony Xperia Z Ultra. The Xperia Z has a been a huge hit for Sony, and no doubt the company hopes the Xperia Z Ultra with its whopping 6.4-inch display will be as popular. Today we have some details for you about the Sony Xperia Z Ultra magnetic docking station accessory, as well as a video hands-on.
We've already given readers specs of the Xperia Z Ultra as well as a comparison between the Xperia Z Ultra, HTC Butterfly S and Samsung Galaxy Note 3, so you may want to check those out at the links. The Ultra is due to release in Q3, possibly September, so while we wait it's good to find out about accessories for this phablet-style smartphone.
Sony is now showing a product page for the Sony Xperia Z Ultra Magnetic Charging Dock DK30, although there's no price listed just yet and availability is shown simply as "coming soon." It makes sense that it will release around the same time as the phone though.
This looks to be a very useful accessory as the magnetic connector enables the user to place the phone firmly in the dock with one hand. This then connects the phone charging port to the dock charging connector, and you can use the dock for the Z Ultra with our without its cover due to interchangeable inserts.
It's also possible to multitask with this accessory as the dock holds the phone at a viewing angle suitable to check messages, watch content, or browse while the phone is charging. In the brief YouTube video that we've embedded for you below, you can see the magnetic docking station for the Xperia Z Ultra. The video shows a look of the Z Ultra as well as the dock, and it certainly looks as though the phablet is held at a very suitable viewing angle.
We'll keep you informed when we hear more about a release date for the Sony Xperia Z Ultra phone and this dock accessory, as well as pricing of course. If you were to purchase the Xperia Z Ultra, do you think you'd splash out for this magnetic docking station too?