Samsung Galaxy Note 3 dual SIM cards for travelers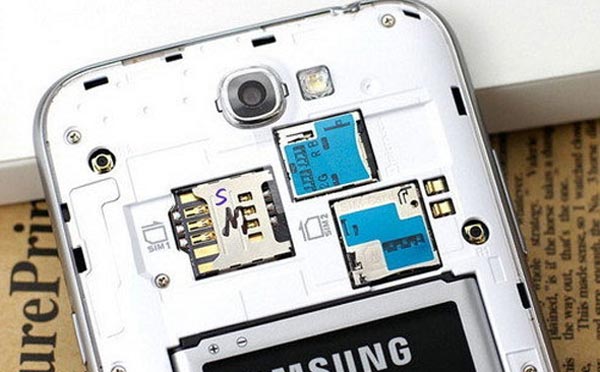 Over the past few weeks we have highlighted the interest in dual SIM card slots for the upcoming Samsung Galaxy Note 3, which could release with this feature although currently this is more desire than fact.
The extra slot could be used for running apps and media, while another card could stay inside and be used for running apps from the SD card if this feature is supported on the upcoming model.
Samsung Galaxy Note 3 dual SIM cards for traveler — the Galaxy S5 would also benefit from dual SD card slots, although in a recent article looking at this possible feature we noticed a number of comments asking for dual SIM cards. We then looked at some popular forums and noticed this is a request being echoed on many websites discussing Galaxy Note 3 specs.
You will also find a number of accessories to help Galaxy Note 2 and S4 users that want a dual SIM. This includes Micro SIM adapters with no cutting being needed and even Bluetooth DualSIM gadgets that pair with the current Samsung smartphones.
The reason there are a number of accessories offering Dual SIM options for smartphones is thanks to a demand for this feature, and accessory manufacturers understand this. Our readers have pointed to clone phones copying popular Samsung models and adding the Duel SIM specification as an extra.
Others even want this feature more than dual SIM cards, and this was made clear when one of our readers said, "Would like dual SIM cards more than dual SD cards". They continued to explain that this feature would be "great for when you go to another country on holiday".
Another one of our readers made it clear that Samsung would "ignore half the potential market of Galaxy Note 3" if they left out dual SIM cards.
What would you rather have between dual SIM and SD cards for the Samsung Galaxy Note 3? Personally, we'd rather see duel SD cards and could imagine two 128GB cards that would deliver some amazing expansion and this would mean a 16GB Galaxy Note 3 would be enough. Let us know your thoughts in the comments.
You can also read some of the latest Samsung Galaxy Note 3 news in our article from yesterday, which looked at mixed displays likely to arrive with the next phablet.