Galaxy S3 Mini vs. iPhone 5 on iOS 7 beta 2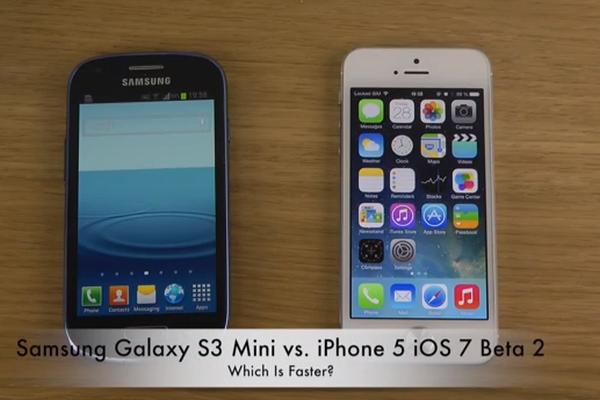 The release to developers of the various iOS 7 betas has allowed us to compare a number of different devices with the software running on Apple products, and while it may seem an unfair comparison to make, today we are looking at the Samsung Galaxy S3 Mini vs. iPhone 5 running on the iOS 7 beta 2 firmware.
We have already compared the Galaxy S4 with the iPhone 5 while running iOS 7 beta 2 as well as another one that featured the Sony Xperia Z, but today's one is looking at the mid-range Samsung Galaxy S3 Mini in action alongside the iPhone 5.
The video below is offering a quick look to see which of the two smartphones is quicker, and the Samsung Galaxy S3 Mini is running on the Android 4.1.2 Jelly Bean operating system. While the device may not be at the top of the tree in the Android world it is still pretty quick and responsive.
This speed test is only checking to see which device boots up the quickest but the Samsung does shut down at a faster rate than the iPhone 5, at least while its running iOS 7 beta 2. We won't spoil the results for you but there wasn't a lot of difference, and has to be remembered that the Samsung Galaxy S3 Mini is only a mid-range smartphone.
We have been covering a lot of news regarding iOS 7 over the last few weeks that has included new features and some problems that have been found such as dropped calls on the iPhone 5.